Named after the goddess Diana who was the goddess of the hunt. During Louis XIV the room was used for billiard games during the evening soirées. In this context, the room was also known as the "chamber of applause" due to the continuous applause from the Court ladies that immediately broke out every time Louis XIV made a brilliant stroke - this happened quite often since the Sun King was very good at billiard. The pool table was covered in red velvet and trimmed with gold fringes; it was placed at the centre of the room. The floors were covered with Persian carpets. Alongside the Salon of Venus it formed an antechamber to the King's Grand Apartments.
The goddess Diana was linked with the moon which has inspired the décor of the salon - marble of colder shades cover the walls. Hunting scenes from the antiquity has been painted in the mouldings which is probably one of the most obvious references to Louis XIV himself who happened to be an excellent hunter as well.
Like the other salons of the Grand Apartments, the ceiling is extravagantly decorated with a large painting done by Gabriel Blanchard - he also created a painting that is placed opposite to the mantelpiece The painting depicts Diana herself in presiding over a hunt and navigation at the same time. The large bust depicts Louis XIV (of course) and was transferred to Versailles from the collection of the Cardinal de Mazarin. Two other busts flank the large marble bust of Louis XIV. The busts are of two ancient ladies (one is thought to be an Empress) and they are both made of white marble as well. Another painting adorns the mantelpiece; this artwork is by Charles de la Fosse.
Marble bust of Louis XIV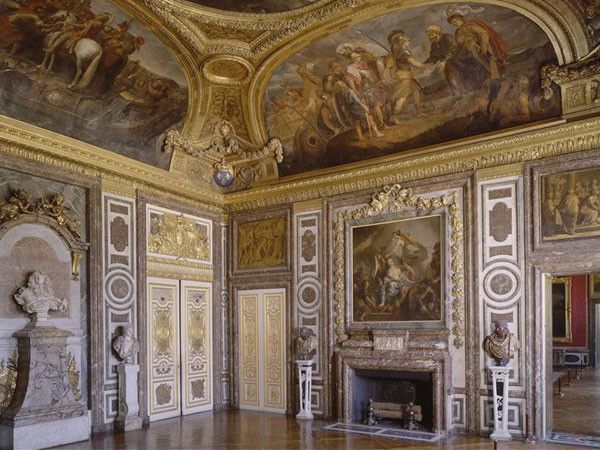 The amazing ceiling