While the seigneurie of Harcourt had been in place since the viking invasion it was not until the 11th century that the ruling family was first mentioned amongst the French aristocracy. Until 1700 the name of Harcourt in a title was held by the Comte d'Harcourt; however, in this year, Louis XIV bestowed the title of Duc d'Harcourt on Henri d'Harcourt. Henri was a descendant of the younger members of the Harcourt-family and hailed himself from the Marquis de Beuvron.
The last Comte d'Harcourt from the Harcourt-family was Jean VII d'Harcourt who had two daughters but no sons and died in 1452. In this instance he divided his legacy between his daughters. The eldest had married into the Vaudémont-family and the youngest into the Rieux-family. Since Salic law prevents females from inheriting the title of Comte d'Harcourt was technically no longer held by the Harcourt-family; thus, the eldest branch had died out in the male line.
The Marquis de Beuvron & the Duc d'Harcourt
The cadet branch survived and produced first the Marquises de Beuvron and then the Ducs d'Harcourt.
1. François III d'Harcourt and (I) Catherine Le Tellier, (II) Angélique de Fabert
François III was born in 1627 and held the titles of Marquis de Beuvron, de Beaufou and de La Meilleraye.
Catherine Le Tellier had been born in 1628 and died at just 31 years old. She and François had three children:
Marie Léonore d'Harcourt
Henri d'Harcourt, Duc d'Harcourt
Odet d'Harcourt
Angélique was born in 1649 and had previously been married to the Marquis de Genlis. When both she and François were widowed they married in 1677. They, too, had three children:
Catherine Angélique d'Harcourt, Marquise de Chalmazel
Louis François d'Harcourt, Comte de Sézanne
Henriette d'Harcourt, Comtesse de Béthune
2. Henri d'Harcourt and Marie Anne Claude Brûlart de Genlis
Henri entered the army at at the age of 18 and participated in the Dutch Wars of Louis XIV. Here he apparently distinguished himself because he was entrusted with the ambassadorship to Spain. This happened to be a particularly important post since it was the time when Carlos II died - this eventually sparked the War of the Spanish Succession. It is not quite clear what part he played in the scheming immediately following the Spanish king's death but Louis XIV was sufficiently grateful. As a consequence he was elevated to the rank of Duc d'Harcourt.
The couple had eight children:
Charlotte Henriette d'Harcourt, nun
François IV d'Harcourt, Duc d'Harcourt
Louis Henri d'Harcourt, Comte de Beuvron
Louis Abraham d'Harcourt, Abbé and Duc d'Harcourt
Claude Lydie d'Harcourt, Marquise de Mailloc
Louise Angélique d'Harcourt, nun
Anne Pierre d'Harcourt, Duc d'Harcourt
Henri Claude d'Harcourt, Comte d'Harcourt
3. François IV d'Harcourt and (I) Marguerite Sophie Louise de Neufville, (II) Marie Madeleine Le Tellier de Barbezieux
François fought during the Wars of the Polish and Austrian Succession where he distinguished herself enough to be made Marèchal de France in 1746. He was further adorned with the Order of the Holy Spirit. His first marriage to Marguerite Sophie Louise did not result in any children.
Marie Madeleine was the granddaughter of Louis XIV's notorious minister, Louis de Louvois. They had three children:
Françoise-Claire d'Harcourt, Marquise d'Hautefort
Angélique Adélaïde d'Harcourt, Princesse de Croÿ-Solre
Gabrielle Lydie d'Harcourt, Marquise de Nangis
Louis François d'Harcourt
François IV
4. Anne Pierre d'Harcourt and Eulalie de Beaupoil de Sainte-Aulaire
The only son of François IV d'Harcourt died before his father which meant that the dukedom went to François' younger brother, Anne Pierre.
Like his father and grandfather Anne took up arms for his king and fought in numerous battles - including some of the more famous of the 18th century such as the siege of Tournai and the battle of Fontenoy. Anne was given two governorships; that of Normandy and that of Sedan.
Eulalie was the sole heir of the Marquis de Sainte-Aulaire. She was considered to be a great beauty and was for awhile considered to be the successor the Madame de Mailly as Louis XV's maîtresse-en-titre. While she did have an affair with the king she never did manage to oust Madame de Mailly. She and Anne Pierre had five children:
François-Henri d'Harcourt, Duc d'Harcourt
Anne François d'Harcourt, Duc de Beuvron
Anne Henri d'Harcourt
Anne Louise d'Harcourt
Louise Angélique d'Harcourt
Anne Pierre d'Harcourt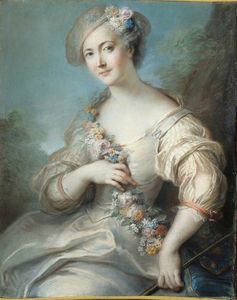 Eulalie
5. François-Henri d'Harcourt and Catherine Scholastique d'Aubusson La Feuillade
François-Henri partook in the War of the Austrian Succession where he obtained the rank of Marèchal de France. Once he returned to court he was given the prestigious post of governor to the dauphin. Louis XVI had actually met François-Henri beforehand when the king stayed overnight at the Château de Thury-Harcourt in Normandy where François-Henri continued his father's governorship. He fled during the revolution and represented the Comte de Provence in London.
Catherine had one child by François-Henri:
Anne Catherine Gabrielle d'Harcourt, Duchesse de Mortemart
François-Henri
Interesting facts and anecdotes
François-Henri and his younger brother, Anne-François, hosted Louis XVI and Marie Antoinette at Chebourg where the port was being modernized by the duc d'Harcourt
Louis XIV had intended that Henri d'Harcourt should act as governor of Louis XV but Henri died just three years after the Sun King
The house boasted no less than seven lieutenant generals and three marèchaux de France - just in the period this blog cover!
Gem
Gem