Like most other royal residences the food for the royal tables were not cooked in the residence itself - instead the food would be warmed in the Warming Kitchen and then brought in to the royals and nobles staying at the Petit Trianon. Especially Madame de Pompadour resented the smell and noise that normally comes from a kitchen so she certainly did not want to change this part of the architecture.
Once again simplicity is the main feature applied to this room. The architect Gabriel (a favourite of Louis XV) designed the arches that makes out the ceiling of the room. Today the large fireplace and chimney still stands as a testimony to the many meals that were heated here before being carried into the dining rooms.
A large wooden table is placed in the middle of the kitchen; this is a typical example of the rustic simplicity that Marie Antoinette wanted in her little escape from the extravagant splendour of Versailles. The kitchen itself is placed right next to the vegetable gardens so the kitchen always had access to fresh vegetables.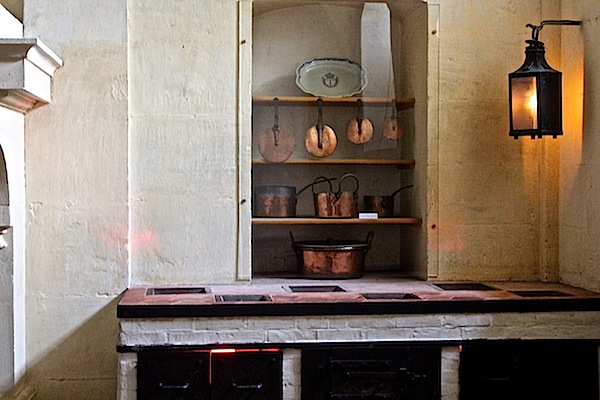 Corridor down to the kitchens