Madame du Barry occupied a suite of apartments on the second floor of Versailles where Louis XV could slip into the privacy he loved with his mistress. Her dining room was consequently a place where the King could enjoy dinners with very few specially invited guests - imagine the honour!
As it is with these "upper" apartments at Versailles there is not the same height in the room as those on the ground and first floor. This room is decorated with great simplicity with white panels edged with a pale turquoise; this was the original colour installed by Martin. When the King dined in this room he would occupy a chair with a high back than the rest of the dinner party!
There are still a fireplace installed in a rather peculiar colour: ochre! Other than that there are a couple of dark wooden cabinets and tables; one of them has a beautiful dark blue vase on it with golden motifs. The windows faces the Courtyard of the Stag - convenient for the King who could use this way as well to visit his mistress without the entire court knowing about it!
Detail of the wood-work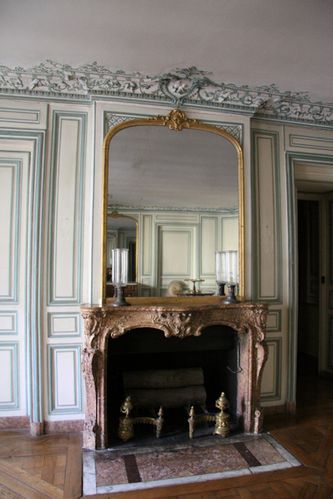 Windows of the dining room