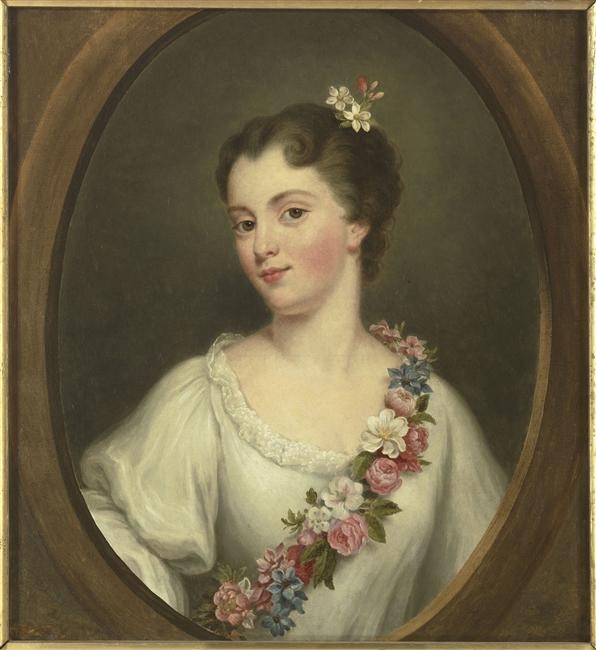 Louise Anne de Bourbon was born at Versailles on 23 June 1695 to the Prince de Condé and Louise Françoise de Bourbon who was the only legitimised daughter of Louis XIV and Madame de Montespan.
During the regency of Philippe II, Duc d'Orléans (who happened to be her cousin) Louise Anne began an affair with the Duc de Richelieu who was the nephew of the infamous Cardinal de Richelieu. Louise Anne's greatest rival was her cousin Charlotte Aglaé d'Orléans who also had an affair with the Duc - and at the same time!
Louise Anne stands out among the many ladies of Versailles because she never married. There was a time when it was suggested that she should marry her cousin (another one) Louis Auguste, Prince de Dombes but Louise Anne plainly refused. The name of the Duc de Chartres was also named as a possible candidate but as the heir to the house of Orléans the Duc's mother aimed at a higher ranking bride and the marriage never happened - and given her previous no it is likely that Louise Anne would not have agreed to it anyway.
Louise Anne had a peculiar relationship with Louis XV; she helped him finding new mistresses! Of course the gossipers of Versailles immediately imagined that she herself had been his mistress at one point but there was never any proof of it. It was Louise Anne's own sister - Louise Élisabeth - who introduced Madame de Pompadour at court. Louise was a part of the political intrigues at Versailles and at the death of Louise Marie d'Orléans she became known simply as Mademoiselle at court.
Louise Anne had several estates in her possession and acquired the Hôtel de Rothelin-Charolais in 1735 which she would use as her town house in Paris. She would later on sell her estate Charolais to the crown in exchange of lands in Palaiseau. Louise Anne died at her Hôtel de Rothelin-Charolais on 28 April 1758.