The Ball of the Yew Trees was a great event in two ways. First of all it was the celebration of the marriage between the Dauphin Louis and Maria Thérèse of Spain. Secondly, it was during this ball that Louis XV met a woman who completely swept him away: Jeanne Antoinette Poisson or Madame de Pompadour. They had met previously but this was Jeanne Antoinette's first court ball so all eyes were on her.
The ball was held between the 25.-26. February 1745 in the Hall of Mirrors at Versailles. It was a magnificent ball made a tat strange by the fact that many of the guests wore masks. The guards had been told to stop people entering to check that they were actually of the nobility by the quick removal of the mask. The common people flooded to Versailles as well because the admittance to the ball was free - the crowds in the courtyards had to make way for the hundreds of elaborately decorated carriages that pulled up beginning at 11 o'clock at night. Some 600 people sat on the floor in and around the Oeil de Bouef waiting for the dances to begin. Others waited in the Salon of Hercules. It is estimated that 15.000 people attended the ball all in all.
Large tables were lined up for the guests' sake; since this event occurred during Lent there was served no meat but fish, fruit pyramids, sweets and of course liqueur.
At one point the great doors were opened and Queen Marie Leszczynska appeared dressed in an amazing white court gown glittering with pearls - it is said that the Queen wore two magnificent diamonds in her hair: the Sancy and the Regent. She was not accompanied by the King but by the Dauphin and new Dauphin both of whom were dressed up as a shepherd and shepherdess. Soon the main event was to take place which has given the ball its name.
Eight men suddenly appeared, all dressed up as yew trees and the King was certainly among them. It was Louis XV himself who had come up with the idea because he enjoyed the opportunity to astonish his courtiers and also eyed an opportunity to mingle incognito. Most ladies of the court turned their attention towards these "wooden" men, all in hope that they might become his next mistress. But their efforts were all in vain because the King had already noticed a lady whom he had seen before though never at court and she was far more interesting to him than the many Duchesses, Comtesses, Marquises etc. At one point one of the yew trees drew away from the crowd and headed towards the young Jeanne Antoinette Poison. It was of course the King and he spent the entire ball with the woman who would become his closest friend and advisor.
The ball ended at half past eight the following morning.
Charles-Nicholas Cochin the Younger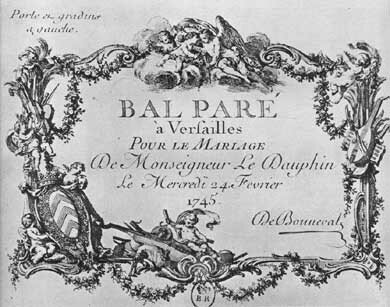 One of the few invitation that actually were sent out
Another work by Charles-Nicholas Cochin the Younger