Louis XVI never did quite grasp some of the trends of his age; one in particular was fashion. Marie Antoinette introduced a new colour to the fashion stage in 1775. The colour varied from a reddish tan-brown to greyish purple. However, when Louis XVI saw it he jokingly remarked that it looked like the colour of a flea. Thus, the name was born since "puce" is flea in French.
Despite the unflattering connection to the pest the colour quickly caught on. Entirely new shades of "puce" was introduced and they all played on the king's witty remark. "Flea's belly", "flea's thigh" or "old flea" all became options when choosing a shade for a new gown. Marie Antoinette seemed to have preferred a shade leaning more towards ash-grey.
Men, too, jumped on the wagon. A newly arrived young man was advised to immediately purchase a puce-coloured jacket and he was sure to become an instant favourite.
The gauze used for this lady's dress is puce, 1778
The Baronne d'Oberkirch remembered how Versailles was soon flooded with gowns in every shade of "flea" imaginable. It quickly spread to the bourgeoisie and for a good reason. According to the Baronne, the colour "did not soil easily" so it was cheaper to both produce and easier to wash. The demand soon became so great that dyers struggled to keep up.
Lady Spencer visited the French court that summer of 1775 and exclaimed that nothing but puce could be worn. Marie Antoinette even advised her English guest to acquire a puce-coloured garment for herself. Naturally, the Lady Spencer quickly obeyed and purchased a coat.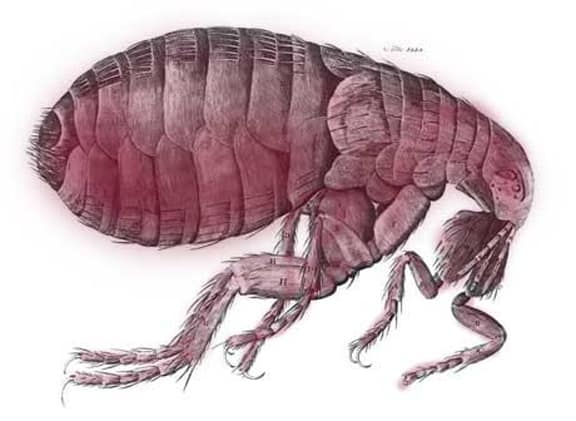 The innocent flea whose species caused a fashion trend