In 1757 this set was delivered to the king who immediately had it sent to Fontainebleau; here he used it as his daily service.
The colour chosen for the garlands was "camaïeu carmine"; the edges were gilded in gold. This carmine hue was still rather new at the time which caused the price of the set to go up. Not only was the colour trendy - it was very expensive to make. It was created by burning golden oxide paint. Some of the pieces are still at Fontainebleau but others has been sold on auction.
The pattern proved to be popular in the royal family. Records show that new pieces were still being delivered in 1787. By then, the set would have counted several hundred pieces.
These are amongst the collection of Fontainebleau: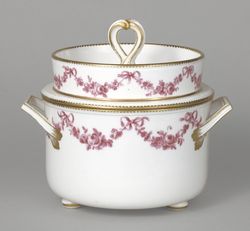 Ice bucket
Dinner plate
These original pieces were sold by Christies:
Sugar bowl - sold for 3500 pounds
These plates were originally estimated to be sold for a
maximum of 12.000 USD - they sold of 37.500 USD
These are reproductions that can be purchased at Bernardaud:
Tea cup and saucer
Coffee pot
Wide plate
Salad bowl