Marie Antoinette had a true passion for flowers which most likely was a result of her upbringing with her father who adored his gardens. Already at a young age flowers were dear to her. While travelling through Nancy on her way to Versailles (and her wedding) she had spent the day gathering rose petals.
This fondness for floral prints and flower decorations is clearly shining through in quite a lot of the merchandise presented to the Queen. Among her favourite flowers were roses, violets, lilacs, hyacinths, irises and lilies.
Detail of one of the Queen's chair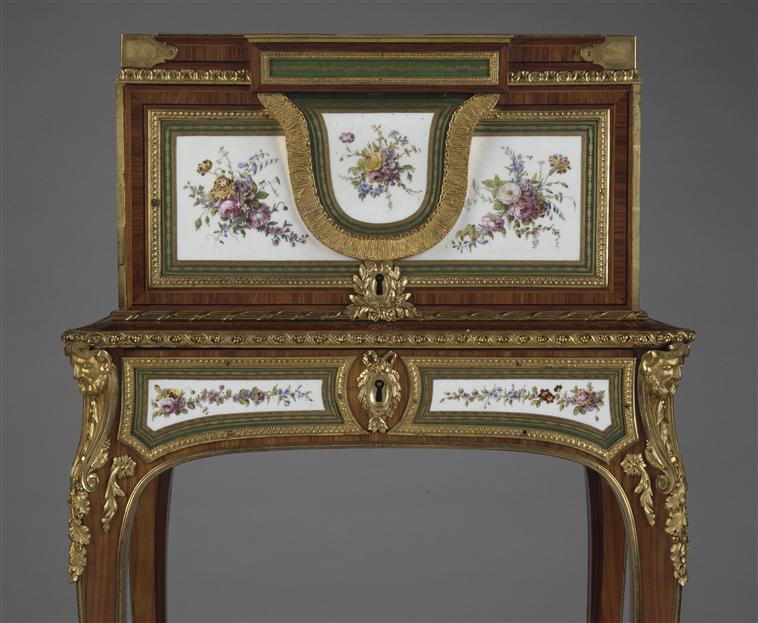 Table for the Queen by Martin Carlin
In the Queen's hamlet near the Petit Trianon she had a rose garden planted which provided her with plenty of sweet-smelling, beautiful roses. Roses are often depicted in a central position in portraits of the Queen. Marie Antoinette personally had a hand in all the gardening plans carried out at her private retreat; even the colour schemes of each individual flower bed was chosen by the Queen.
Back at Versailles not only the décor but also the scent of the Queen's apartment was infused with fresh flowers. When her personal perfumer Jean-Louis Fargeon came to see Marie Antoinette he would often bring - besides the flowery perfumes - gloves scented with flowers such as hyacinths and jasmine. It was a specific task for one of her ladies to make sure that the huge vases were always filled with fresh flowers.
Detail of the wallpaper from the Queen's
bedchamber
Boiserie detail at Petit Trianon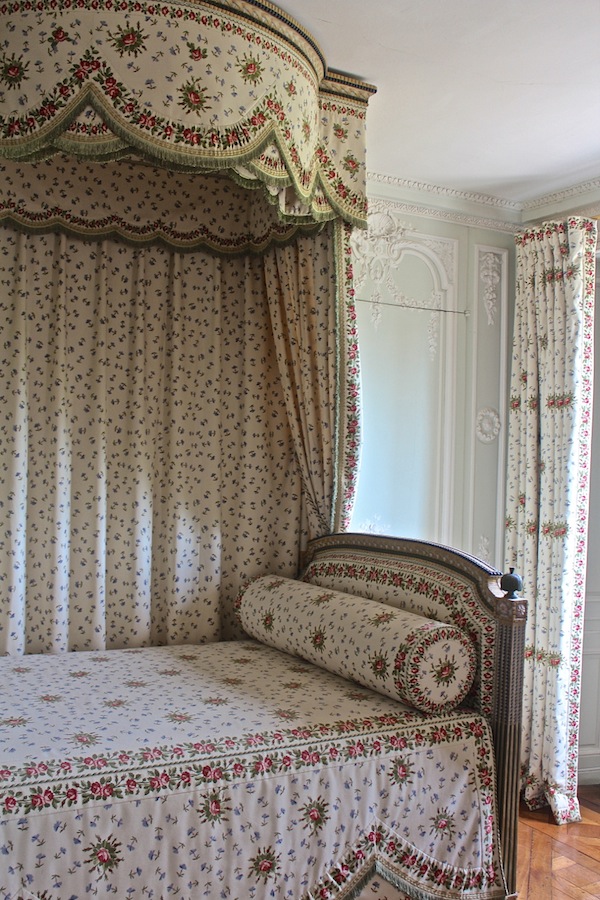 Floral bedding of the Queen's bedroom at the Petit Trianon
Sometime during her reign as Queen consort she heard of a man, named Pierre Joseph Redouté, who was said to be able to draw flowers and plants in richer details than anyone else. Intrigued, she summoned Redouté to court where she was so impressed with him that she invited him to the Petit Trianon. Here, he would sketch many of the Queen's flowers. Sadly, these sketches were burned during the revolution.
The Queen's clothing were also often over-strewn with beautifully embroidered flowers.
Fragment of the Queen's petticoat