Louis XIV understood that it was one thing to take absolute power for himself but a whole other to keep the courtiers constantly reminded of just that. First, he assembled the courtiers at Versailles by making it impossible to get ahead without being near the King. And while they were there it might as well be that the very palace which they lived in carried the King's first letter: L.
Two intertwined L's on a door
More often than not there will be not one but two L's intertwined and topped with a golden crown. A sun is naturally not unusual to find either nor is a fleur-de-lis
Another door from the King's grand apartment
The front gate with both a crown, two L's and a sun
Throughout most of Versailles "L"s can be found in the most unexpected places from the exquisitely carved furniture to the marble floors. By making his initial a part of the very surroundings of his court, the court would never forget who was really in charge.
Marble floor of the chapel
There are only two other persons whose initials appears at Versailles: Marie Antoinette and Louis Philippe. When Louis XVI handed over Petit Trianon to his wife he also permitted her to tear down the "L"'s which had been installed for Louis XV and replace them with her "MA"s. This alone shows Louis XVI's affection for his wife; not only was anything other than "L" hitherto unseen but the new initials were those of a Queen.
Louis Philippe's contribution was far less than Marie Antoinette's but his initials can still be found on some spots.
Even this key to the chapel has tiny intertwined Ls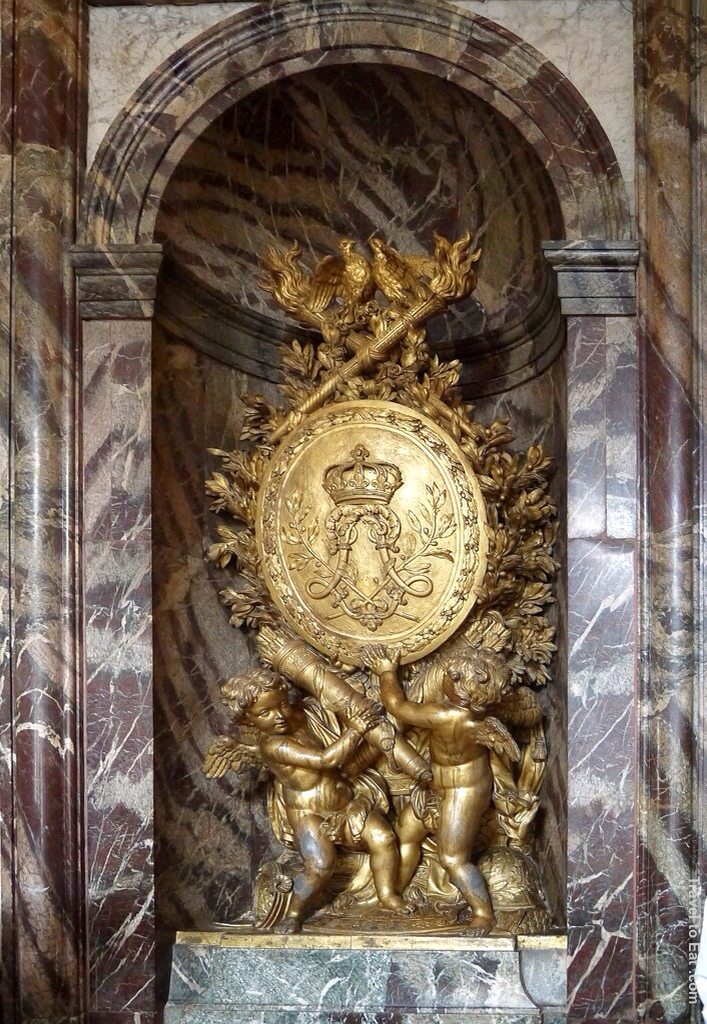 This medallion can be found at the Queen's staircase
Wood-carvings
Naturally, since both Louis XIV's successors carried the same name there was never any reason to change the initials. That does seem lucky when you consider how difficult it would be to tear up heavy, marble floor!