Francoise-Athénaïs, Marquise de Montespan is even today renowned for her beauty. Already during the early years of her marriage when she served as a lady-in-waiting to the Duchesse d'Orléans she was known as a "great beauty".
Her portraits shows the ideal female form of the time: a voluptuous body with the curves so desired at the time. Antonia Fraser tells us that she had large blue eyes and long, auburn curls that fell about her shoulders. Those beautiful eyes were made even more so by the infamous "esprit de Mortemart" - the elegant wit of her ancestral house.
However, it was not merely her appearance that charmed those around her. Madame de Montespan was equipped with a cutting wit and a natural grace to her movements. Especially her hands were admired; as was the way she carried herself. A mixture of dignity and alluring appeal drew in anybody she wished.
Confidence was definitely key with the Marquise. She held immense pride in her heritage and was well aware that she was beautiful. So were her contemporaries. Madame de La Fayette claimed that la Montespan possessed no less than a "
flawless beauty
" while Madame de Sevigné's letters are full of praise. Elizabeth-Charlotte, Duchesse d'Orléans was no great friend of Madame de Montespan; nevertheless, she admitted that she had "
beautiful hair, fine arms, shapely hands, a very pretty mouth and a winning smile
".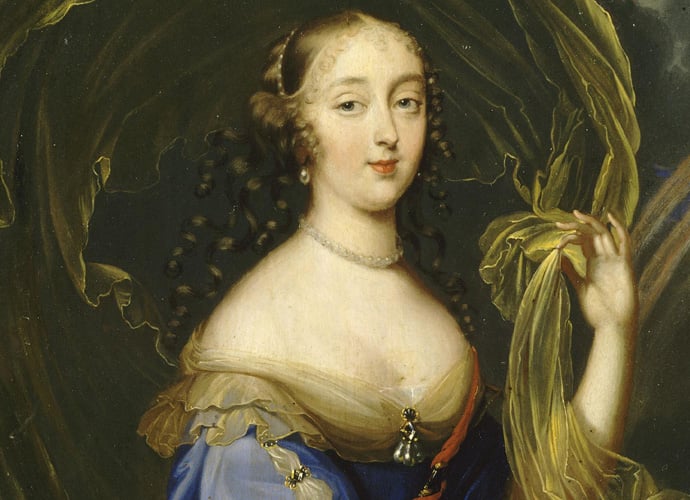 Madame de Montespan
As is almost always the case the court praise was connected with the king's opinion. During her height of beauty there were no end to verses singing her praises. Loret made one of the most famous ones which describes her as a "charming miracle... this divine paradise of the eyes". If Montespan had not been vain before her affair with Louis she would certainly have been pushed towards vanity eventually.
To the Duc d'Enghien it was hardly surprising that the king fell for her. According to him she certainly deserved it since "no one could have more spirit or beauty than she".
One of the ways in which her beauty stood out best was in deshabille; one of the most famous portraits of her is painted in this state.
Such beauty could hardly last forever. Montespan was immensely fond of food which - combined with seven consecutive pregnancies - left their toll on her body. All through her life Francoise-Athénaïs would struggle with her weight. Over the years the curvaceous body became larger and larger. In the end she was downright fat. Even so, the picky Duc de Saint-Simon (who only met her in the last part of her reign) admitted that she was indeed very beautiful.
Madame de Maintenon was quick to pick up on this added weight (it could hardly be overlooked); the "old dame" found her weight gain astonishing.
In her last years Madame found her suddenly far less appealing than before. The Princess Palatine compared the retired favourite's skin to paper that had been folded again and again. However, no one else mentions such excessive wrinkles so perhaps a tinge of jealousy still haunted Madame? Even when her liaison with Louis was definitely over Montespan still retained a certain air of mystery and allure which fascinated her surroundings.