Reshuffling of the apartments in Versailles was a common occurrence. Apartments within the château proper were reserved for the king's immediate family, nobility serving in the royal households and the absolute elite of society - and an army of servants. Therefore, it was not uncommon for people to move in and out of different apartments as they advanced or retired from royal service. This was also the case for a royal mistress.
First apartment (1745-49)
This is the most famous of Madame de Pompadour's apartment and is the one that has been restored in Versailles today. Its proximity to the king's meant that it was usually used by the king's mistress - Madame de Châteauroux had inhabited it before her.
Her apartments were located immediately above those of the King and spanned some of the King's Grand Apartment too. The apartment passed to Madame de Pompadour's consisted of eight rooms - not counting her servant's apartments: a wardrobe, two studies, a living room, two antechambers (now gone), a water closet and large room. These faced the North Parterre and due to their location had a lovely view of the Marly forest which meant that the apartment had the luxury of being flooded by sun-light.
These were soon changed to fit the new favourite's taste better which caused the number of rooms to grow to ten rooms and a few very small cabinets. Here is the layout:
Apartments: 1 - bath, 2 - antechamber to bath, 3 - wardrobe, 4 - interior cabinet, 5 - old cabinet, 6 - chaise percée (toilet), 8 - second antechamber, 9 - first antechamber, 10 - new bedroom
The bath and its antechamber were only added later. The wardrobe is almost devoid of decoration since it had a purely functional purpose: to store Madame de Pompadour's gowns. Thus they were not used for entertaining company and the Marquise would rarely had gone in there herself.
The new bedroom was decorated with Verbeckt woodwork and designed by Gabriel. The Marquise's bed was moved into the snug alcove between two discreet doors crowned by the arms of the favourite. Here the Marquise would receive guests at her public toilette "like a Queen".
Previously (until 1748), Madame de Pompadour had slept in what later became her living room (7 in the illustration above); this had also been the bedroom of Madame de Châteauroux. The Marquise's new bedroom is characteristic with its green silk furniture. However, these pieces were not owned by Madame de Pompadour; the panels were a part of her apartment, though. Her new bedroom was decorated with woodwork from Verberckt. It is also in this apartment that Louis XV's "flying chair" leads up to which enabled his mistress in gliding discreetly from her apartment to his. The furniture has most likely been chosen due to their dating back to her era and happen to be of the same colour as the varnish - called Martin's varnish - used to break off the otherwise white walls. This happened to be one of the Marquise's favourite colours.
The second antechamber (8) contains a marble fireplace and was used by Jeanne to receive guests and partially to keep some of her books.
Unfortunately, it is impossible to say exactly what pieces of furniture Pompadour filled her apartments with. She was not supplied by the Garde-Meuble since she was not an official member of the royal family and there are no inventory list in existence of her apartments 1745-50. Furthermore, she was notorious for continuously moving furniture from one place to another, so the décor had almost certainly changed over the years.
Madame de Pompadour loved perfume and a visitor to her apartment described how her rooms were always scented - it is said that her choice of scents could still be smelled twenty years after she had left the rooms.
Madame de Pompadour sporting two of her
favourite shades: green and pink. These two
colours would be to find everywhere throughout
her apartment
Second apartment (1749-1764)
Once Madame de Pompadour's physical relationship with the king had ended, she entered into a very different role: that of confidante and even advisor. Rather than sending her from court, Louis XV gave her new apartments on the ground floor. The apartment was located immediately next to those of Mesdames (the king's daughter) which must have been awkward considering the open hostility shown by them to the royal mistress. Previously, the Duchesse de Penthièvre had occupied this apartment.
Before Jeanne Antoinette could move in, the apartment had to be renovated. This task was given to Charles Lécuyer who provided this floor plan in 1750 (modified by myself):
1) First antechamber, 2) Second antechamber, 3) Grand Cabinet, 4) Bedchamber, 5) Inner cabinet, 6) Red Cabinet, 7) Bath
Besides the Marquise de Pompadour, members of her entourage were given smaller apartments on the entresol: her physician, M. Quesnay, and her lady-in-waiting, Madame du Hausset. Besides these two, rooms were allocated for the use of her wardrobe and her lesser-known servants.
Madame de Pompadour herself was delighted with the change. Although the apartment in the attic might be more suitable for intimate pillow talk, the new apartment was more formal and far more dignified. Besides, there were several practical advantages. For one, her guests no longer had to climb a mountain of stairs to visit her. As it happens, Jeanne Antoinette was only the second royal mistress to be housed in this particular part of the palace which was usually reserved for the king's immediate family. The former had been Madame de Montespan.
The new set of rooms certainly served to cement her place close to the king's heart. It was entered via Cour Royale (Royal Courtyard) and had a lovely view overlooking the Parterre du Nord. The decoration of the bedchamber took full advantage of this location by placing the bed in the alcove so that the lady would lie facing the windows. Her inner cabinet (no. 5 in the illustration) served as her private office where she would receive dignitaries and even ambassadors.
The Red Chamber (no. 6) was the most intimate place in her apartment. It was named due to its exotic décor of red Chinese lacquer which adorned the walls. It was here that she would consult with Louis XV and ultimately it would be where she died in 1764.
Finally, her bath (no. 7) was not just a tiny room kept out of sight. Of course, it included the essentials but also boasted a boudoir immediately connected with the bath.
As could be imagined, Jeanne Antoinette took the opportunity to put her own special touch on the interior design of her new abode. The walls were coated with delicate pastel shades (pink and green in particular) which matched the silk furniture perfectly. The abundance of space meant that she had plenty of rooms for her beloved porcelain figurines and flowers.
Sadly, nothing of her personal taste survives to this day. Once she died, the rooms were given over the Mesdames who quickly stripped the rooms of any trace of her. The walls were painted over with a sober white varnish and the furniture swapped. Even the red lacquer walls were removed when that particular chamber was handed over to Madame Adélaïde.
The first apartment has been restored by Versailles to imitate the style that Madame de Pompadour imposed while she lived there. The result is as follows: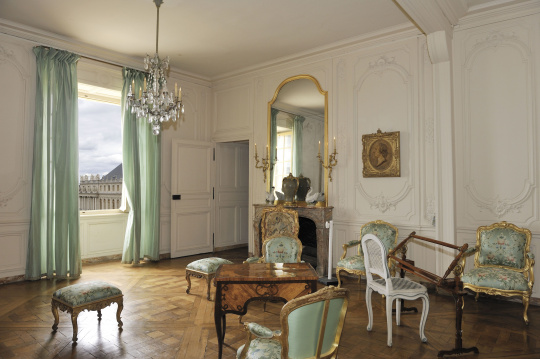 Photo by Christian Milet
Antechamber