Augustin-Joseph was born on 5 April 1707 into one of the oldest noble families in France: de Mailly. As such he was guaranteed a place at the court of Versailles; here he was hired as a page in the King's stables which was reserved for boys of the nobility. Not much else is known about his childhood.
It was soon decided that Augustin-Joseph should join the royal regiments. In 1726 he was enrolled in the regiment named for his family (de Mailly) and two years later he was promoted to captain of the Scottish gendarmes. As most men of noble families he was soon sent abroad to fight in Flanders, Westphalia and Bohemia. Augustin-Joseph must have impressed his superiors because by 1734 he had risen to Master of Cavalry.
On one of the few occasions when he was actually home he was married to the grand-niece of Colbert, Constance Colbert de Torcy. The marriage was celebrated with Louis XV as a personal guest; Augustin-Joseph's success in the army had made him a popular man with the King. The two would have two children: both of them were girls but the first-born died young. It is possible that the two girls were twins since their mother died within the same year of the marriage.
Since Augustin-Joseph's marriage had only lasted for a year he was remarried three years later to Michelle de Séricourt. With her he had his son and heir Louis-Marie de Mailly.
His military exploits earned him the Order of Saint Louis at the age of just 32; he was awarded a pension of 3000 livres for having lead a regiment of 150 Scottish gendarmes against the foe who had already defeated two French regiments. In 1745 he was awarded the title of Field Marshal which raised some eyebrows since he had hitherto only been in charge of minor regiments.
Augustin-Joseph proved the sceptics wrong; during the War of the Austrian Succession he defended Provence from invasion - during this period he stood against a far larger foe but still managed to take 150 prisoners as well as capture 4 cannons.
Louis XV knew that without the Marquis d'Haucourt France would have been invaded and showered him with well-deserved honours. He was granted the governorship of Abbeville and was made Lieutenant-General of the King's armies in 1748. The following year he was made Inspector General of the royal cavalry.
He was put to the task of negotiating the borders with Spain in 1750; upon his return to France he founded - with the King's permission - an academy for young boys to be trained for the army.
Augustin-Joseph - now a general - was commissioned to establish a port for the French navy. Augustin-Joseph founded the port of Port-Vendres.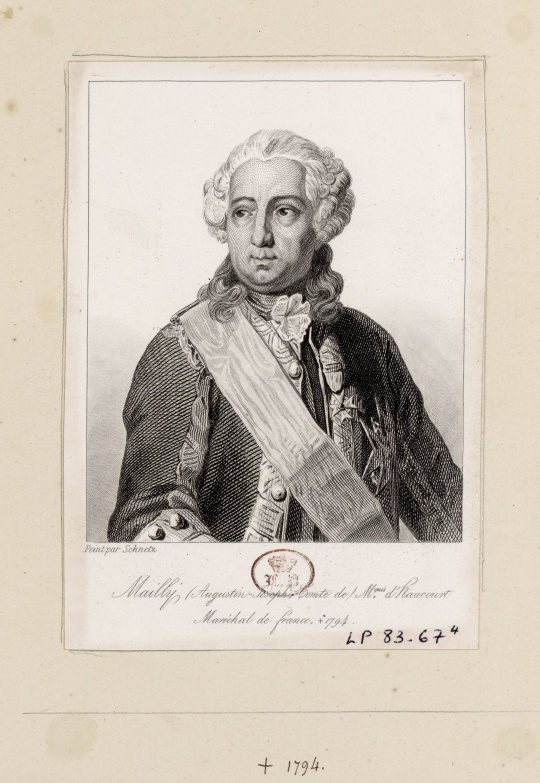 However, having so much success is bound to win you some enemies and that was what happened to Augustin-Joseph. The Marèchal de Noailles was in the midst of an argument with Augustin-Joseph had him removed from his military command and soon after Jean-Baptiste de Machault d'Arnouville succeeded in having him exiled from court in 1753.
It soon turned out that the King could not spare his talented general for long and Louis XV not only recalled him to court but charged him with bringing the new dauphine, Marie Thérèse Raphaëlle, back to France.
During the Seven Years' War he was wounded and taken prisoner by Frederick of Prussia. Now under his command Augustin-Joseph fought for Frederick of Prussia who awarded with him with several pieces of land for his successful efforts.
However, Augustin-Joseph gained his freedom and with the war over he could return to Rousillon (which he had been made governor of).
In 1778 he was widowed again and he married his third and last wife: Marie Blanche Félicité de Narbonne-Pelet with whom he had another son, Adrien.
Louis XVI finally awarded him the last honour missing, the title of Marèchal de France, in 1783 as well as giving him the title of Director-General of the armies in the Pyrenees.
Louis XVI and Augustin-Joseph inspecting
the guards of the Tuileries
When the revolution broke out Augustin-Joseph was 81 years old and refused to emigrate. To him the idea of the King being abandoned in Paris was horrendous. Louis XVI initially wanted to give him command of one of the four armies of the National Assembly but when they required him to take a civic oath he refused.
It was Augustin-Joseph who was given command of the troops of the Tuileries who defended the royal family when their prison was stormed in 1792. Augustin-Joseph himself escaped - barely.
He was not able to escape capture long and was put on trial. Due to his age he was spared being thrown in prison and instead he retired to his family estate of Mareuil-Caubert. However, it was thought that he was too much of a threat and eventually he was imprisoned with his family in 1793.
Augustin-Joseph was sentenced to death and faced the crowd without fear. His last words were "Long live the King! I serve him as my ancestors always has" - Augustin-Joseph was the oldest aristocrat to be guillotined. He was executed on 25 March 1794.