Superintendent
Charlotte Cathrine de Gramont, Princesse de Monaco
She entered into the service of the new Madame in 1672 when she returned to court after her exile. Previously, she had been the mistress of Louis XIV and everyone had expected her to supplant Louise de La Vallière since this had been the intended purpose of placing the princesse in the king's bed. However, the king chose Madame de Montespan instead.
Charlotte Cathrine
Dame d'honneur
Marie-Elisabeth de Ludres, Marquise de Bayon
Married to: never married
She had originally served Henrietta of England until the latter's death when she was transferred to the service of the queen. Once Elizabeth-Charlotte married Monsieur, Marie-Elisabeth was once again transferred to the service of Madame. She was briefly the mistress of Louis XIV while he was estranged from Madame de Montespan but got too bold and was dismissed.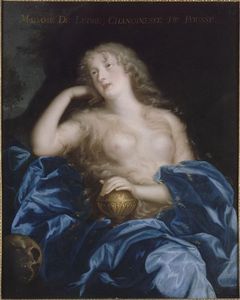 Marie-Elisabeth
Charlotte de La Mothe-Houdancourt, Duchesse de Ventadour
Married to: Louis Charles de Lévis
Most famously known as the governess of the future Louis XV, she came to court as the Duchesse de Ventadour following her marriage in 1671. Madame herself claims that Madame de Ventadour served her for sixteen years and would have continued to do so following the death of Monsieur if Madame de Maintenon had not interfered - to the infinite displeasure of Madame.
Charlotte
Louise Françoise Bouthillier, Marèchale de Clérambault
Married to: Philippe de Clérambault
Little is known about Madame de Clérambault but that she was married in 1654 at the age of 20 and was widowed in 1665 - however, she did not die herself until 1732 thus outliving Madame. She was even appointed governess to the children of Madame.
Henrietta Gordon, Madame Gordon
Married to: never married
She was born in Scotland but went to the French court where the queen suggested that she take up service in her the household of the Princesse de Condé which Henrietta refused. She did eventually enter that of Madame - possibly out of financial necessity - and was transferred to the household of Elizabeth-Charlotte. She was rumoured to have had an affair with the Marèchal de Clérambault which must have caused some tension in Madame's apartments.
Elisabeth-Charlotte de Brancas, Duchesse de Villars-Brancas
Married to: Louis Touissant de Brancas
Dame d'atours
Marie de Durfort de Duras, Mademoiselle de Duras
Married to: never married
She was the daughter of the Marquis de Duras and had originally been brought up as a Protestant but converted to Catholicism in 1678.
Anne-Madeleine de Foudras de Chàteautiers, Mademoiselle de Châteautiers
Married to: unknown but possibly unmarried
According to Madame herself Anne-Madeleine almost left her service due to the connivance of Madame de Maintenon but this time Elizabeth-Charlotte won the day and kept her dame d'atours. This was undoubtedly a relief to Madame since she had known Anne-Madeleine for years; the latter had served her as fille d'honneur before being appointed to this post.
Marie-Rosalie de Brouilly de Piennes, Marquise de Châtillon
Married to: Alexis-Henri de Châtillon
She took this post in 1689 at the age of 24 years and retired in 1706 but remained at court for another two years.
Demoiselles d'honneur
Marie-Angélique de Scorailles de Roussille, Mademoiselle de Fontagnes
Married: never married
She became the mistress of Louis XIV and died at the young age of 19 years probably due to complications following giving birth to the king's child.
Marie-Angélique
Pauline de Simiane, Mademoiselle de Simiane
Married to: Louis III de Simiane
The grand-daughter of Madame de Sévigné, both she and her husband served the royal family - he in the service of Monsieur.
Pauline
Mademoiselle de Déry
Lydie de Rochefort-Théobon, Comtesse de Beuvron
Married to: Charles d'Harcourt
She was the daughter of the Marquis de Théobon and became the mistress of Louis XIV in the early 1670's. She had originally been a demoiselle d'honneur to the queen but Madame de Montespan had these dismissed and she was thus transferred to the service of Madame. During her time in Madame's household she was asked by Monsieur to keep an eye on her mistress but it backfired when Lydie and Madame became good friends.
Mademoiselle de Poitiers