It is not for nothing that Versailles was referred to as "the perfumed court" - ever since the court moved there in 1682 the halls and salons was flooded with the sensual notes of perfume. While Louis XIV preferred the strong scents of flowers - orange blossom being a favourite - perfume developed over the 18th century. By the time of Louis XVI and Marie Antoinette the trade had developed into an art.
As it is today, everyone had their own preferences. The difference from most people today and the courtiers at Versailles is that the French elite had perfume made specifically after their own preferences in scents. Few people understood the delicate art of perfume as well as the royal perfumer, Jean-Louis Fargeon. He was made perfumer to Louis XVI and his court which gave him direct access to the royal family. The perfumes he made for them were inspired by the individual person and their moods.
Other influential perfumers of the time included François Houbigant who was under the patronage of the Duchesse de Charost - he was a direct rival of Fargeon's when it came to the queen's favour. The perfumery of Houbigant still exists and boasts that Marie Antoinette wore three vials of their perfume on her way to the guillotine for strength. Furthermore, there were Vigier who had served the court of Louis XV and Jean-Marie Farina who invented the still famous Eau de Cologne.
Some of the more famous perfumes of that age are as follows.
Eau de Cypre Composée
The celebrated perfumer was first introduced to Madame du Barry around 1773; the royal mistress at first wanted something to preserve the shade of her hair and soon became infatuated with Fargeon's perfumes as well.
To her he brought a vial of eau de cypre composée which was made of jasmine, rose, iris, angelica and orange blossom topped off by no more than three nutmegs and thirty drops of amber. Madame du Barry was in ecstasy about it.
According to Antoine Hornet - who published his book on perfumes and their distillations in 1788 - the best way of preparing this perfume is to go lightly with the amber since it "offends" the noses of most people.
Eau d'Ange
Unlike some of these other scents, the eau d'Ange was universally applicable. It could be used as a base for other perfumes and could be used in baths. In the latter part of the 18th century it was believed to keep the skin white - thus signalling the desired status symbol of a skin not tainted by working in the fields. Marie Antoinette used it to preserve her much-celebrated complexion.
Fargeon's version included iris, rosewood, benzoin, sandalwood, calamus aromaticus and storax.
The Parisian brand Jeanne Piaubert still carries the eau d'Ange in their assortment.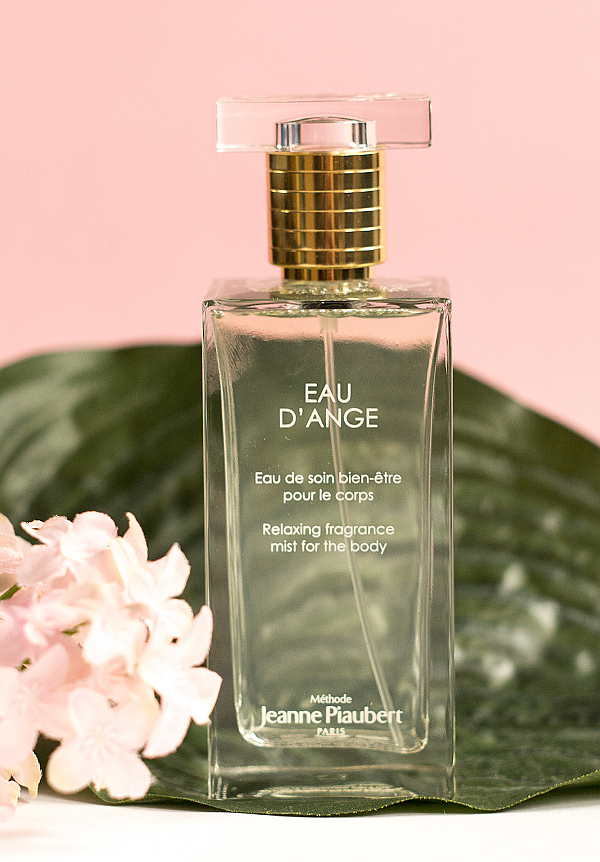 The modern version by Jeanne Piaubert
Eau de Mille Fleurs
This perfume has roots as far back as 1686 when Nicolas de Blégny published his works on the secrets of perfumery. The name could easily give rise to expectations of a strong floral scent but it is really rather heavier. Consisting of rose, benzoin, marjoram and musk it often had a base of eau d'Ange. Blégny was also convinced that the concoction could remedy certain physical disorders.
The types of flowers used could depend on the client; some wished to add lavender while others wanted orange blossom. Samuel Frederick Gray's book of 1831 mentions jasmine, essence of lavender, orange blossom and essence of bergamot as key ingredients. Perhaps this is where the name originates from - the possibility of adding any flower possible?
Eau d'Houbigant
The second oldest perfumery in France the House of Houbigant launched this particularly popular perfume not long after the ascension of Louis XVI to the throne. It consisted solely of flowers which gave it a sensual but light aroma. The founder advertised his new creation with the following words:
"It is to the beauty of the face what the morning dew is to the flowers; it refreshes and stimulates the skin while imbuing it with exquisite smoothness..."
Jean-François Houbigant - the creator of
this perfume
Eau du Roi
Although the orange blossom was not the centre of a perfume until the reign of Louis XV it was definitely on the radar of the French court before that. Throughout his life Louis XIV would prefer this scent to any other - even in his later years when he could hardly stand any perfume he still found it soothing.
Eau de Mélisse
A blend of lemon, cinnamon, angelica, cloves and coriander; Fargeon gave it to Marie Antoinette to soothe her. It was not a new mixture. Charles V is rumoured to have used it and Richelieu always kept a vial of it on him - it was also referred to as eau de Carmelites since it was produced by Carmelite nuns for centuries.
Eau de La Reine d'Hongrie
The perfume was originally made for Elizabeth of Poland, Queen of Hungary in 1370. It was made from rosemary macerated in alcohol. Later bergamot, lavender, jasmine and amber were added. It was immensely popular at the French court. Madame de Maintenon and Madame de Sévigné both used it habitually.
Not only was it popular as a perfume but was also considered to have medical propensities - rheumatism amongst others. When Louis XIV was struck with sharp pains in his leg in 1675 he was administered several medicaments - including eau de La Reine d'Hongrie. It was given again in September 1678 when a bout of rheumatism plagued him.
Parfum du Trianon
Created by Fargeon following an audience with Marie Antoinette at her private retreat. The dominant note was rose but added orange blossom, essentials oils of lemon and bergamot, lavender, galbanum, iris, violet, a bit of jasmine, jonquil and tuberose. Inspired by the lanes of the Petit Trianon he added cedar and sandalwood; amber and musk was chosen as a counteragent to the flowers. Finally, he added a little vanilla as a reference to her Austrian childhood.
Marie Antoinette was infatuated with the perfume. As a sign of favour she granted him access to her grande toilette where he would meet new clients.
The back of Petit Trianon where Fargeon was met by the
queen
Eau à la Marèchale
Named for the Marèchale d'Aumont, this perfume remained a favourite even when the monarchy fell. It was rich in everything: iris, rosewood, benzoin, eau d'ange, nutmeg, cloves, bark from a lemon tree, oranges, jasmine, coriander, marjoram, lavender, roses etc. Popularly said, it had so many scents that it was hard to define it by a single note.
Eau aux Herbes de Montpellier
This perfume's primary note was thyme and it was used for cleansing one's face. Marie Antoinette was given it for her nightly washing.
If you are interested in learning more about Fargeon and his relationship with not only Marie Antoinette but her court, I strongly recommend Elisabeth de Feydeau's book: "A Scented Palace: the Secret History of Marie Antoinette's Perfumer".