A chronological list of the mistresses of Louis XIV - including the maîtresses-en-titres, petites maîtresses and liaisons. However, it should be noted that one-night stands might have slipped the otherwise ever-cautious courtiers by, so some may be excluded. Included are approximate years of relationship, children from the relationship or little notes or anecdotes about the relationship.
Towards the end of his life, Louis became a lot less interested in having what we would term as one-night stands. This is primarily due to the sombre influence of Madame de Maintenon who had allied herself with the church in order to get the king on a more virtuous path.
NOTE: maîtresses-en-titre are marked with a star
Catherine Bellier, Baronne de Beauvais
Year: 1653
Catherine had been approached by Anne of Austria who wanted to make sure that her son was prepared for marriage - in every sense of the word. As a reward for having deflowered the king she received an estate and a pension
Olympe Mancini, Comtesse de Soissons
Years: 1654-1657 and again from 1660-1661
Children: most likely a son. Their affair ended in 1657 and she married the Comte de Soissons. However, just six months after the marriage she gave birth to a son.
Olympe was deeply upset about being displaced in the king's affections. She was caught up in the Affair of the Poisons where she was alleged to have even threatened the king that if he did not take her back "he would be sorry".
Olympe as Athena
Anne-Madeleine de Lisle Marivault, Marquise de Calvisson
Year: 1657
The couple met at a masked ball hosted by Madame d'Argencourt where Louis XIV was immediately intrigued by her lively conversation. He continued to show up wherever she went for the next couple of weeks until Anne of Austria got a hint of the would-be affair. The queen mother promptly dispatched her son to Vincennes and that was the end of that.
Marie Mancini, Princesse de Colonna
Years: 1658-1660
Marie Mancini is often described as Louis XIV's first love. There is no doubt that Louis XIV fell deeply in love with the young Italian woman - so much so that people began to wonder if he would marry her. This greatly upset Anne of Austria who had set her eyes on marrying her son to her niece, the Infanta of Spain. Thus, Cardinal Mazarin (Marie's uncle) sent her off to Italy to marry the Prince of Colonna; meanwhile Louis was quickly married to Marie Thérèse of Spain.
Marie Mancini
Daughter of a gardener
Year: 1658
Children: a daughter
This affair appears to have been one of mystery. Her name did not survive to history which may be attributed to her origins.
Bonne de Pons, Madame d'Heudicourt
Year: 1661
A cousin to Madame de Montespan, her family had a far different attitude towards the prospect of seeing her a royal mistress than most noble families. Horrified, they removed her from court in 1665 and quickly married her off to
Bonne de Pons
Françoise-Louise de La Baume Le Blanc, Duchesse de La Vallière*
Years: 1661-1667
Children: Charles de La Baume Le Blanc, Philippe de La Baume Le Blanc, Louis de La Baume Le Blanc, Marie Anne de Bourbon and Louis de Bourbon.
The first maîtresse-en-titre, her relationship with the king actually happened by chance. To avoid the increasing rumour of an improper relationship between Louis XIV and Henriette-Anne d'Orléans (wife to Monsieur) the two arranged to use Louise as a decoy. However, the plot backfired when Louis became genuinely attached to her. Throughout their relationship Louise was plagued by her conscious since she considered their affair to be deeply in odds with her devout beliefs. After having fled several times to a convent - only to be brought back again - she was finally allowed to leave for good.
Louise de La Vallière
Anne-Lucie de La Mothe-Houdancourt, Duchesse de Vieuville
Year: 1662
It is possible that their relationship may never have been physical. Anne-Lucie was a close friend of the Comtesse de Soissons who blatantly used her to win the king back. Naturally, Anne of Austria was not pleased at having a mistress present who would only humiliate her daughter-in-law but she understood how the court worked. The queen mother by far preferred Louise de La Vallière who treated the queen with respect. Anne-Lucie herself seems to have been more of a pawn than actually involved on her own behalf. She apparently did not wish to consummate her relationship with the king until he ended his affair with La Vallière - which he refused. The affair quickly ended after that.
Anne-Lucie
Anne de Conty d'Argencourt
Year: 1662
Anne was a maid of honour to Anne of Austria where she caught the eye of the king. However, their affair was disrupted when she chose to take another lover in the form of the Duc de Richelieu which greatly angered Louis XIV. Rather than being publicly abandoned she chose to retire to a convent.
Bonne de Pons, Marquise d'Heudicourt
Year: 1665
A cousin to Madame de Montespan, her family had a far different attitude towards the prospect of seeing her a royal mistress than most noble families. Horrified, they removed her from court and quickly married her off to Michel Sublet, Marquis d'Heudicourt. Later she would find herself on the wrong side of her cousin and former love interest when she revealed the existence of several of the illegitimate children of La Montespan and Louis XIV. They had her exiled in 1672 until Madame de Maintenon intervened.
Bonne de Pons
Charlotte-Catherine de Gramont, Princesse de Monaco
Year: 1665
The affair between Louis and Charlotte-Catherine is widely regarded as having been orchestrated by Henrietta-Anne d'Orléans. Madame had become jealous that Louise de La Vallière occupied so much of the king's time that she attempted to lure him away. In a sense it worked since the Princesse de Monaco did become the king's mistress - but only for a short while. However, the Princesse was known to have an insatiable appetite for love and was eventually exiled due to inappropriate affairs.
Charlotte-Catherine de Gramont
Françoise-Athénaïs de Rochechouart de Mortemart, Marquise de Montespan*
Years: 1667-1681
Children: Louise Françoise de Bourbon, Louis Auguste de Bourbon, Louis César de Bourbon, Louise Françoise de Bourbon, Louise Marie Anne de Bourbon, Françoise Marie de Bourbon and Louis Alexandre de Bourbon.
Madame de Montespan is without a doubt the most celebrated mistress of Louis XIV. She embodied the glory of his reign with her sharp wit, sensual appearance and overall magnificence. She succeeded in supplanting Louise de La Vallière and from then on held a firm grip on the king's affections. Eventually, the church attempted to intervene and the couple was forced apart for a short while. However, both were too much infatuated with each other to be kept apart and soon resumed their relationship. It was not until the Affair of the Poisons erupted that the king was forced to officially break from La Montespan.
Although she was found guilty in the eyes of the public - and the court - the king does not seem to have believed that she tried to use dark magic to ensure his continued attention. Even after they had officially ended their relationship Louis continued to visit her in her chambers although their relationship would never be the same again.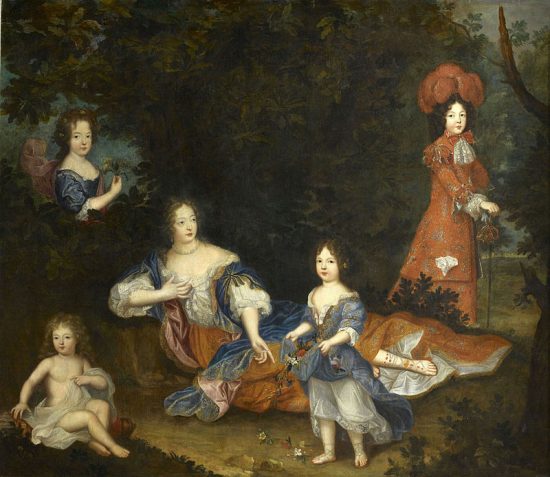 Madame de Montespan with some of her children by Louis
Anne de Rohan-Chabot, Princesse de Soubise
Years: 1669 and then 1673-1675
Children: possibly two sons, Hercule Mériadec de Rohan and Armand Gaston Maximillian de Rohan
Anne first caught Louis' attentions in 1669 when the court was staying at Chambord - it is pretty fair to say that she was never meant to be more than a brief liaison since the king already had his hands full with both La Vallière and La Montespan. Some time after their first encounter she gave birth to her first son, Hercule. In 1674 Anne was made lady-in-waiting to Marie Thérèse and once again found her way to the king - and again a son was born not long after.
However, Anne had been married since the age of 15 and the Prince de Soubise acknowledged both sons as his own although the court definitely thought otherwise. Their relationship continued on and off for a few years until it finally ended at roughly the same time as Madame de Montespan's reign.
Anne
Lydie de Rochefort-Théobon, Comtesse de Beuvron
Year: 1670-1672

Here is another affair which began at the Château de Chambord. Lydie and Louis became lovers shortly before Molière's play "le Bourgeois Gentilhomme" premiered. Although their relationship was so well known as to be related to the king of Prussia by his envoy it does not appear to have been one of great passion. When it was coming to an end the king was said to occasionally "amuse himself with Mademoiselle de Théobon". She was eventually removed by Madame de Montespan who had her transferred to the service of Madame and Monsieur.


Françoise d'Aubigné, Marquise de Maintenon*
Years: 1680-1715

Madame de Maintenon began her career at court as the governess of Louis XIV's children by Madame de Montespan. Unsurprisingly, it came as a shock to the reigning favourite that her trusted governess would someday conspire to replace her. However, after the Affair of the Poisons Françoise stood as a stark contrast to the glorious Montespan. She was a firm ally of the church - although her piety tended to vary depending on her interests. Historians widely believe that Louis XIV eventually married her as she provided a stable and solemn companion for his later years. If such a marriage took place it was morganatic since she was so far beneath him in rank - consequently, she would never be acknowledged as queen nor his wife.
Madame de Maintenon in her later years
Claude de Vin d
es Oeillets
Years: around 1670-1676
Children: Louise de Maisonblanche
Claude was a member of Madame de Montespan's entourage and often stepped in whenever the maîtresse-en-titre's pregnancies prevented her from "amusing" the king. Surprisingly enough, Madame de Montespan encouraged this since she knew that she was less likely to lose the king if he stayed within her household. Claude was eventually caught up in the Affair of the Poisons after which the king completely abandoned her. This was said to have caused her so much heartbreak that she died from it.
Claude
Marie-Élisabeth de Ludres (called Isabelle), Marquise de Ludres
Years: 1675-1677
Isabelle was a renowned beauty who captured the king while his affair with Madame de Montespan was fading. It was very much expected that she would succeed La Montespan as maîtresse-en-titre but Isabelle's own pride ruined her prospects. While Louis was away at war with Spain she boasted to everyone that she had replaced La Montespan and that she had full control of the king. The king had wanted to keep their relations a bit more discreet and was so angered by her behaviour that he cast her off completely.
Isabelle
Marie-Charlotte de Castelnau, Comtesse de Louvigny
Years: 1676-1677
Louis had once again gotten Madame de Montespan pregnant which accounted for his wandering eye in the period 1676 when he noticed the then Comtesse de Louvigny. However, he very quickly tired of her and returned to La Montespan once the child was born.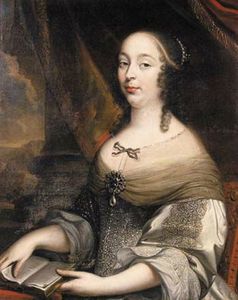 Marie-Charlotte
Elizabeth Hamilton, Comtesse de Gramont
Year: 1678
Her affair with the king appears to be somewhat disputed but it is likely that they did have a brief liaison. Elizabeth's quick wit and amusing presence was a continued source of irritation to Madame de Maintenon - perhaps she reminded the up-coming favourite of La Montespan?
Elizabeth
Marie-Angélique de Scorailles de Roussille, Duchesse de Fontanges
Years: 1679-1681
Marie-Angélique was one of the greatest threats to Madame de Montespan's reign as favourite. Louis XIV was very much intrigued by the young beauty when she arrived at court in 1679 and quickly made her his mistress. At first they managed to keep it a secret but then the king himself revealed it by wearing matching ribbons at Mass - right before both the queen and Madame de Montespan. Naturally, the favourite went into a rage and the king did everything he could to calm her down. Marie-Angélique was made the laughing-stock of the court when Madame de Montespan apparently had two bears - gifts from the king - let into her apartment where they caused a mess. Understandably, the would-be mistress fled in terror to the glee of the courtiers.
Louis eventually began to grow tired of her and Madame de Montespan attempted to make use of her confidante, Madame de Maintenon, in order to make Marie-Angélique retire. However, Marie-Angélique refused but died not long after due to an illness.
Marie-Angélique
Diane-Gabrielle Damas de Thianges, Duchesse de Nevers
Year: 1680
Diane-Gabrielle was well-known to Louis XIV long before they had a brief liaison: she was Madame de Montespan's older sister. She never achieved the influence of her sister; her affair with the king was on and off - primarily when Madame de Montespan was pregnant or ill.
Diane-Gabrielle
Marie Madeleine Agnès de Gontaut Biron, Marquise de Nogaret
Years: 1680-1683

Although Marie and Louis' affair lasted on and off for three years very little is known about their time together. She never managed - or wanted for that matter - to attempt to take the position of the king's declared mistress.




Louise-Élisabeth Rouxel, Mademoiselle de Grancey
Year: somewhat uncertain
According to Madame de Sévigné an uncle of Louise-Élisabeth's made it very clear to Louis XIV that she was available to the king if he wished it which the king refused. Louise-Élisabeth was said to have been furious at her uncle's boldness indicating that she did not instigate the advance. She had previously been the mistress of the Chevalier de Lorraine which Madame de Montespan used as a weapon to make sure that the king would never go near her.
Louise-Élisabeth
Jeanne de Rouvroy, Marquise de Chevrières
Year: 1681
Jeanne's affair with Louis was very brief - she was even described as a "passing mistress" of the king's in 1681. The king had personally signed her marriage contract so they had at least been acquainted since 1675. She died just eight years later.
Marie-Anne de Wurtemberg, Princesse de Wurtemberg
Year: 1681

Marie-Anne attracted the king in 1681 which angered Madame de Montespan. Although her relationship with Louis XIV was coming to its end she still had considerable influence and convinced the king that Marie-Anne had been the mistress of a monk who claimed to have found the philosopher's stone. Following the Affair of the Poisons Louis XIV was wary of anything of the kind and never went near her again.



Françoise Thérèse de Voyer de Dorée, Mademoiselle

d'Oré
Year: 1681

This was another brief affair which was ended by a third party. However, this time it was both Mesdames de Montespan and de Maintenon who intervened - the former from jealousy, the latter from hypocrisy. Also, it was said that she had failed to "please the king" which was a sure way of ending such a fling.



Marie-Antoinette de Rouvroy, Comtesse

d'Oisy
Year: 1681

Once again it was beauty and wit that attracted the king - but Marie-Antoinette was not capable of maintaining the king's interest for long. Thus, she became one in a remarkably busy year for the king. Nevertheless, the king did give her a pension of 6000 livres on the occasion of her marriage.




Marie-Rosalie de Piennes, Marquise de Châtillon
Year: 1682

Marie-Rosalie is one of the more obscure, passing mistresses of the Sun King. She was seventeen when she was wooed by the king - in his forties - and did not make a lasting impression.




Madame de Saint-Martin
Year: about 1682

Madame de Saint-Martin rivals the daughter of the gardener in being the least known mistress to the king. Quite frankly it is more likely that the king had a one-time affair with her since not much is known about Madame de Saint-Martin other than that she was the wife of a minor official in the queen's household.



Marie-Louise de Montmorency-Laval, Duchesse de Roquelaure
Year: 1683
Children: a daughter
Marie-Louise had a quick liaison with the king which resulted in a pregnancy. However, the king was well passed the phase of legitimizing his illegitimate children - and especially those by women whom he most likely did not care very much about. To dampen the scandal he married her off to the Duc de Roquelaure and offered the bridegroom a pension in addition.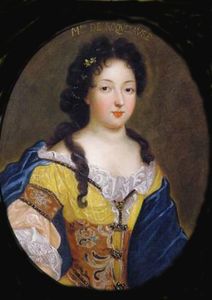 Marie-Louise
Julie de Guenami, Mademoiselle de Châteaubriant
Year: 1683

Julie was just 15 years old when her family pushed her in the king's way - her family had fallen from grace and saw the beautiful girl as a chance to regain ground. However, their hopes came to nothing since Madame de Maintenon's grip on the king was tightening. She was the last woman whom the king was said to have had a brief affair with.



Gem
Gem
Gem
Gem
Gem
Gem