The style of déshabillé - or negligée - was a type of informal dress which had its roots in female undergarments (i.e. the chemise). Loose-fitting and relaxed it became synonymous with the privacy of the bedchamber - but, still, it could be used for more public displays. The beauty of the style was that it could be dressed up or down according to the circumstances.
One particular proponent of the fashion was Madame de Montespan; usually, the courtiers could tell whether the mistress was "in happy circumstances" by her choosing to discard the corset for the deshabillé. Also, La Montespan was remarked to look her very best when in this sensual array - something she knew how to take advantage of.
The style quickly caught on due to the comfort it provided. A full court costume was unpleasant at best - tight corset, wide panniers and heels made maneuvering around a challenge in itself. It is no wonder, then, that women embraced the new trend and not always intended for the bedroom. Marie Adélaide of Savoy preferred to wear the style when she roamed around her private apartment.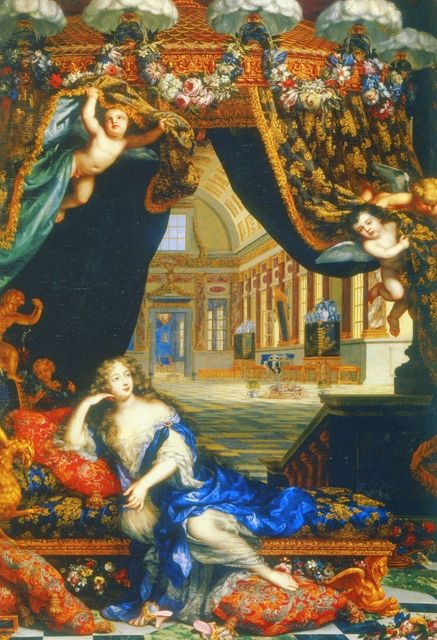 Madame de Montespan in déshabillé before her château of
Clagny
However, not all court ladies were pleased with the new fashion. Elizabeth Charlotte of the Palatinate never quite got the point of using clothing to lure men in. In her opinion clothing was either practical (such as her hunting habits) or underlined her rank (such as court gowns).
The déshabillé was ideal for the toilette; this was particularly true for the prominent court ladies who received visitors (both male and female) while preparing their costume.
Maria Feodorovna of Russia
Given the nature of the style some fabrics were preferred for the déshabillé. Heavy fabrics such as brocade, cloth of gold and taffeta were not used; instead, silk, satin, linen and similar light fabrics were preferred. On occasion a sash would be draped around the waist.
Not only women were fond of the style; men, too, saw the advantages of loosening up once in a while. Their version involved a loose-fitting white undershirt perhaps accompanied by an equally loose coat for warmth.
The Marquis of Halifax sporting the male
déshabillé
Actually, the chemise de la Reine is a late 18th-century version of the déshabillé. Marie Antoinette made the style "in" again by this choice of style. Thus, it received somewhat of a renaissance during her reign although it was received with some frowns. While Marie Antoinette preferred the style as an alternative to the tight-laced court gowns some of her contemporaries imitated La Montespan's use. Madame du Barry was known to frolic in her apartment in frilly deshabillé. The last royal mistress would often don this type of airy attire for the king's private suppers. With flowers in her hair she would entertain the few guests invited by the king.
Madame du Barry in déshabillé