The French gardens of the Petit Trianon were created between 1749-1753 on the initiative of Louis XV. Once the gardens were completed the king thought something else was missing; while the French gardens already included four structures none of them were inhabitable. Thus, the idea of adding another Trianon to the gardens of Versailles - one that would be smaller than the Grand Trianon. This was the beginning of the Petit Trianon.
The French Pavilion
Completed in 1750 by Jacques-Ange Gabriel's pavilion was different from the other shapes found around the garden. The building is focused around a rotunda with four wings; despite its small appearance it houses a boudoir, an antechamber, a lavatory, a central salon and a small room. Usually, Louis XV would prepare coffee for his guests in this small room. A central feature is the beautiful fireplace created by Jacques Verbeckt; its frieze are marked with clear reference to the nearby menagerie: turkeys and exotic birds parade along it.
The salon is adorned with allegories of the four seasons. To the south is summer, to the north is winter, to the east is spring and to the west is autumn.
Marie Antoinette became mistress of the French pavilion when she was gifted the Petit Trianon by her husband. She did little to change it and continued the tradition of using it as a pleasure pavilion. Every once in a while she would have tents and pavilions erected around it for amusement parties. Especially her love of music was a source of inspiration for some of these. In 1785-86 concerts and musical parties were held here.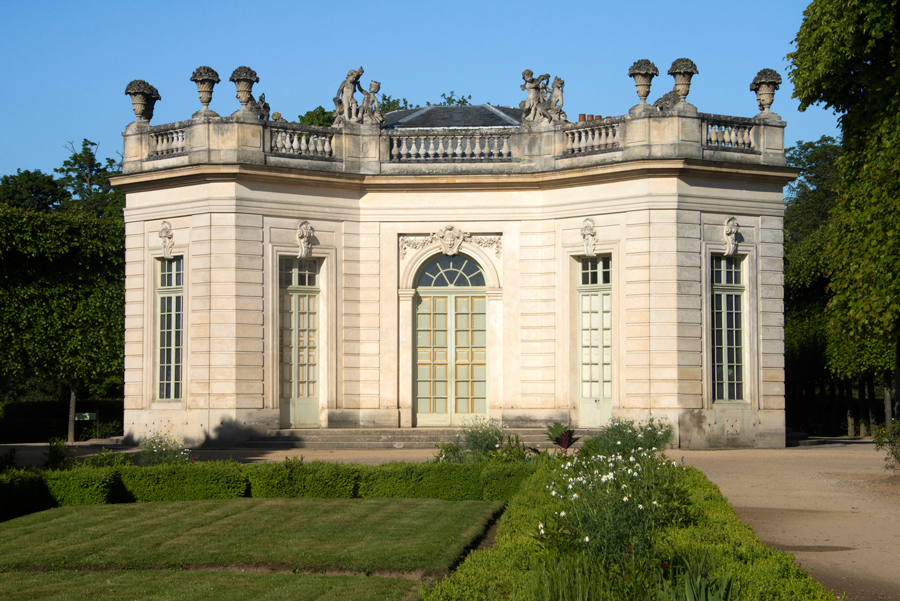 Floor plan of the pavilion


The Cool Pavilion
At the opposite end of the French pavilion stands this lovely green trellis pavilion. It was used as a dining room during the summer. It lies to the north which is why it was dubbed the "cool" pavilion. Once more Jacques Verbekct was called into action; he was commissioned to carve out the oak panels. They were painted white and green to match the exterior. Marble was imported from Languedoc and also has a tint of green. The floor is of white and black marble.
The revolution deprived the pavilion of its furniture but records show how it was decorated in the 1770's. Two sofas with golden gilding and green/white Persian fabric, two armchairs and eighteen regular chairs. Originally, these were ordered in 1754 and finally delivered in 1760 - so by the standard of the time they were rather old.
It was recently reconstructed after having been destroyed in the 19th century. The majority of the furniture was sold during the revolution and send to the Hôtel de Luxembourg.