The Coligny-family could trace its roots back to 863 and had their origins in Bresse. Since their nobility stretched quite a way back it is no wonder that they should already be established nobility when Louis XIV was born.
When the future Sun King was born the primary member of the Coligny-family in France was Gaspard III de Coligny. Gaspard was known at court as the Comte de Coligny but later advanced (considerably) to the rank of Duc de Coligny. Since he served Louis XIII in the Thirty Years' War it is quite likely that his service here helped his promotion. For those interested in Marie Antoinette, he was married to Anne de Polignac.
Coat-of-arms
The family had been in significant trouble during the French Wars of Religion. Unlike most of their aristocratic equals the Colignys were Protestant. This would prove to be fatal for a number of the family's members. They appeared, nevertheless, to have had a rather open attitude to the individual's choice of religion. For example, several converted to Catholicism but were not cast off.
The house of Coligny fostered several distinguished people but the most famous was William III, King of England. Furthermore, the family held the titles of :
Duc de Coligny
Prince de Montbelliard
Comte de Savigny
Comte de Laval
Marquis de Coligny
Marquis de Saint-Bris
The founder of the House of Coligny was Guillaume de Coligny. From him two branches spread of the family were founded through his three sons: Jean, Jacques and Antoine. It is from the eldest, Jean, that the main Coligny-family heralded.
Jean III de Coligny married Éleonore de Courcelles
Their child: Gaspard I
Gaspard I married Marie Louise de Montmorency. They had five children:
Madeleine: married to Charles de Roye
Pierre, Seigneur de Châtillon
Odet: Archbishop of Toulouse, then Cardinal de Châtillon
Gaspard II, Comte de Coligny and Admiral
Francois, Seigneur d'Andelot
Gaspard II married Charlotte de Laval. They had three children:
Louise: married to (I) Charles de Téligny, (II) William I of Orange-Nassau, Stadtholder of
Holland. Her great-grandson was William III of England
Francois, Comte de Coligny
Charles, Marquis de Coligny
Francois married Marguerite d'Ailly. They had four children:
Henri, Comte de Coligny - he fell at the Siege of Ostend
Gaspard, Comte de Coligny, later Duc de Coligny
Charles, Seigneur de Beauport
Francoise: married to René de Talensac
Gaspard III married Anne de Polignac. They had four children:
Maurice, Comte de Coligny
Gaspard IV, Duc de Coligny and Duc de Châtillon
Henriette: married (I) the Count of Haddinton, (II), Gaspard de Champagne
Anne: married to Georges II, Duke of Wurtemberg-Montbéliard
Gaspard IV married Élisabeth-Angelique de Montmorency. Their son:
Henri-Gaspard, Duc de Coligny
Henri-Gaspard died young without an heir
The family of Jacques (son of Guillaume) held the title of Comte de Saligny while Antoine's family held that of Marquis de Coligny.
Family members:
Gaspard IV
Élisabeth-Angelique
Louise de Coligny
Gaspard III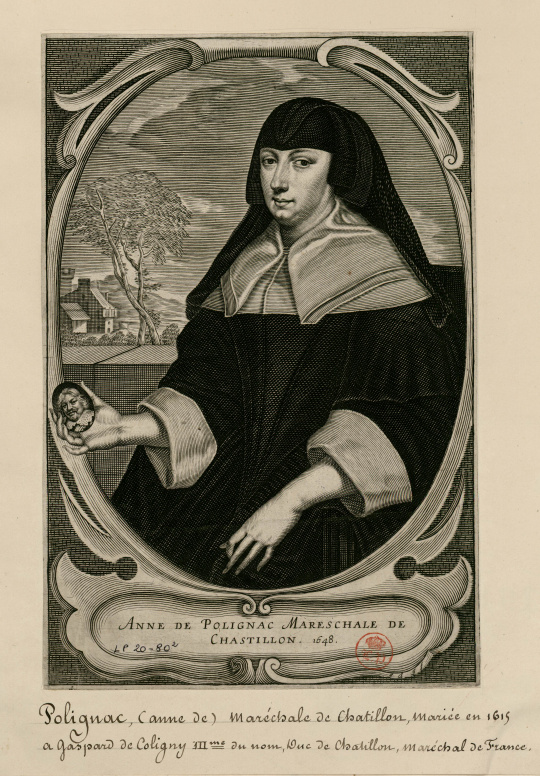 Anne de Polignac
Some interesting facts about the family:
Gaspard IV's marriage to Élisabeth-Angelique was a love match
Gaspard II was murdered during the Massacre of Saint Bartholomew
Francois d'Andelot married a wealthy heiress from Brittany. Through her he became a part of the Guise-family's circle which supported Diane de Poitiers (favourite mistress of Henri II)
Gaspard IV had the favour of Louis XIV who appreciated his military skills. Gaspard was sent to the Battle of Charendon during the Fronde where he was killed by a shot in the kidney at just 28 years old. Louis XIV gave him the honour of being buried in Saint-Denis
Louise de Coligny's marriages had rather bloody endings. Her first husband was also murdered in the Saint Bartholomew's Massacre while her second was assassinated
Henriette de Coligny's second marriage to Gaspard de Champagne was annulled; she herself also converted to Catholicism and was a renowned poet
Maurice de Coligny was killed in a duel against the Duc de Guise
Louise de Coligny died at Fontainebleau where she was the personal guest of Marie de Medici