Marie-Charlotte Hippolyte de Campet de Saujon was born on 6 September 1725 to the Baron and Baronesse de la Rivère. Given that her parents held the lowest ranking title in the nobility her marriage was quite a catch.
In 1746 she was married to Édouard de Boufflers-Rouverel, Comte de Boufflers. Having thus moved two steps up the hierarchical ladder Marie-Charlotte aimed for a life at court. It did not take long before Marie-Charlotte fell pregnant. She gave birth in 1746 to the couple's only child: a son. Soon, there was a position available to her. The newly married Comtesse de Boufflers was attached to the household of the Duchesse de Chartres as a dame du compagnie.
In her capacity as companion to the Duchesse Marie-Charlotte lived at the Palais-Royal. Here, she met the Prince de Conti; the two became rather fond of each other and were soon known to be lovers. Marie-Charlotte could have continued her career at court quite unnoticed if it had not been for a disagreement with the house of Orléans. She was soon obliged to leave the Palais-Royal (which belonged to this branch of the Bourbon-house); instead, she purchased a small hôtel near the Grand Prior's palace.
Comtesse de Boufflers by Carmontelle
Having a penchant for company - probably acquired in the service of the Duchesse - and a quick wit it seemed inevitable that the Comtesse de Boufflers should found her own salon. Marie-Charlotte was completely under the spell of Anglomania which seized Paris in the latter part of the 18th century. She played hostess to celebrated philosophers including Didot, Rousseau, Hume, Prévost etc. She made a close friend in Madame de Deffand who names the Comtesse as her "idol" in her memoirs.
Marie-Charlotte was inspired by her learned visitors and took to writing herself; she never did reach the fame of her circle, though. Given her fondness for all things English she was an obvious candidate for accompanying the French ambassador's wife, Madame d'Usson. The party crossed the Channel in 1763; once on English soil Marie-Charlotte found that her reputation had preceded her. The Comtesse de Boufflers became the guest of honour and was paid compliments by Samuel Johnson and Horace Walpole. She would later received both in Paris.
Two years later, she was once again in Paris. In 1765 her lover granted her the Château de Stors. Now she had a residence which suited one of her repute. However, she was never really attached to the court at Versailles. Perhaps the feud with the Orléans-clan made her a persona non grata. She had only travelled there upon the death of her father-in-law in 1750. Despite being well-known to the court she was not officially presented there until 1770. This time it was her new lover, the Marèchal de Luxembourg, who performed the introduction.
Marie-Charlotte lost her husband in 1764; she had hoped to contract a new marriage to her long-term lover, the Prince de Conti. The match never materialized, though. Although the couple had remained lovers for years the Prince was not interested in making her his wife. Even if he had been so inclined it is likely that her "low-born" origins would have presented a difficulty. Perhaps this unfulfilled wish was what cooled their relationship; as stated, she had taken another lover by 1770.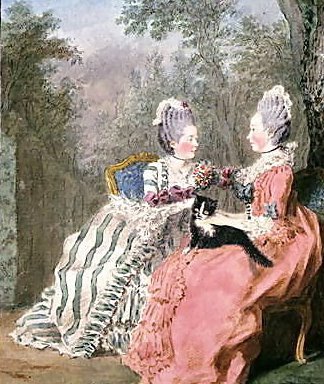 Marie-Charlotte with her granddaughter

In 1773 she acquired another property - a country house at Auteuil. She would retire hereto in 1776 when the Prince de Conti died. Still, she kept her house in Paris as well. Her salon was still in full swing where she would meet influential people. The Comtesse de Boufflers had ties to the Swedish king and even arranged the marriage between the Swedish ambassador and Germaine Necker. Dividing her time between her salon in Paris and her estate at Auteuil - and several other properties - she kept herself busy. The advent of the French revolution brought a final end to her salon in 1789.
Marie-Charlotte was briefly in danger of becoming yet another victim of the guillotine. She was arrested during the Reign of Terror but was let go by the revolutionary tribunal. During the revolution she was obliged to sell some of her property including the Château de La Rivère de Fronsac. In 1795 she suffered the loss of her son. As it happened she would not outlive him long. Marie-Charlotte died in 1800 in Rouen - the same place she had been born.