The twelve positions of dames du palais to the Queen were coveted due to the privileges and prestige they carried with them. They gave the holder direct access to the Queen and in extension the King. Some used this position to get closer to the King; the Mailly-sisters' mother was a dame du palais to Marie Leszczynska and as such had excellent contact with the monarchs.
The position was not coveted merely for one person's sake; as was often the case it was passed on within the family. Naturally, there was the added bonus of a salary which few court ladies could boast of. Marie Leszczynska was the longest reigning Queen-consort of France which brings with it a good deal of dames du palais.
I have compiled the following list of serving dames du palais; they are arranged alphabetically. In order to give a clearer image of the women involved their families, tenure and interesting bits of information are described as well.
Agnès Berthelot de Pléneuf, Marquise de Prie
Tenure: 1725-26
Born: 13 August 1698
Mistress to the Prime Minister; she was the most powerful woman in France for a few years due to her massive influence over her lover
She was forced to vacate her position when she was sent into exile following an attempted coup against Cardinal de Fleury
Marquise de Prie
Alise-Tranquille de Clermont-Tonnerre, Marquise de Montoison
Tenure: 1749-52
Born: 3 January 1724
Married to Louis-Claude de Clermont, Marquis de Montoison in 1724
Marie Leszczynska wished for her to become one of her dames du palais and she was made as such supernumerary
Amable-Gabrielle de Noailles, Duchesse de Villars
Tenure: 1727-42
Born: 18 February 1706
Married to Armand-Honoré, Duc de Villars in 1721
She became the Queen's dame d'atours in 1742 and as such had to vacate her position as dame du palais. Later she would become dame d'atours to Dauphine Marie Antoinette on the king's nomination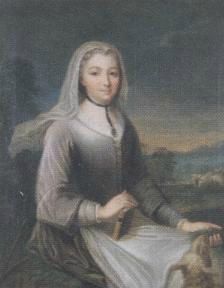 Duchesse de Villars
Anne-Madeleine-Francoise d'Auxy de Monceaux, Duchesse de Fleury
Tenure: 1740-68
Born: 1721
Married to André-Hercule de Rosset, Duc de Fleury
She requested a place as dame du palais in 1739, but there were already twelve, so she was granted the title of supernumerary dame du palais
Consequently, she took the place of the Duchesse de Biron upon her death
She wished to retire when she was married to her second husband, the Duc de Beauvilliers in 1763
Duchesse de Fleury
Anne-Marguerite-Gabrielle de Beauvau-Craon, Duchesse de Mirepoix
Tenure: 1753-59
Born: 28 April 1707
She was first married to the Prince de Lexin who died in 1734; then she married Charles-Pierre-Gaston de Lévis, Duc de Mirepoix
She retired in favour of the Comtesse de Saulx-Tavannes who was a relative of her husband
Catherine-Éleonore-Eugénie de Béthisy de Mézières, Princesse de Montauban
Tenure: 1729-57
Born: 2 December 1707
Succeeded the Duchesse de Tallard as Governess to the Children of France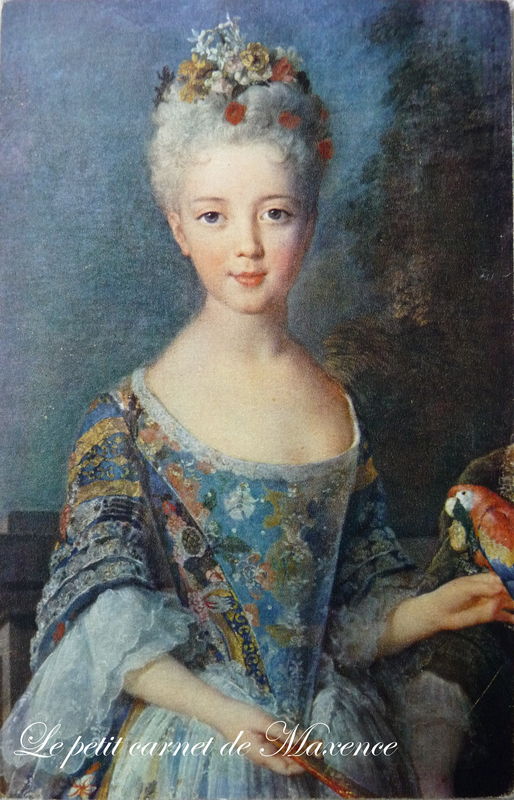 Princesse de Montauban as a child
Edmée-Charlotte de Brenne, Marquise de Matignon
Tenure: 1725-40
Born: about 1702
She requested permission to retire in 1740 in favour of her daughter, Victoire-Louise-Sophie
Félice-Armande de La Porte-Mazarini, Marquise de Nesle
Tenure: 1725-29
Born: 3 September 1691
She only served four years before dying; her daughter (the Comtesse de Mailly) succeeded her
She was the granddaughter of Hortense Mancini - Louis XIV's first real love
Was famous for her numerous affairs including with the Prince de Condé and the Duc de Richelieu
Marquise de Nesle
Francoise-Gilette de Montmorency-Luxembourg, Duchesse d'Épernon
Tenure: 1725-57
Born: 1 July 1704
She requested to be retired in 1757 and was succeeded by the Comtesse de Clermont-Tonnerre
Gabrielle-Pauline Bouthillier de Chavigny, Marquise de Valbelle (later Comtesse d'Adhémar)
Tenure: 1766-68
Born: about 1735
She was initially made a supernumerary dame du palais in 1763 but requested the standard salary of 6000 livres in 1765 which was granted
She succeeded the Marquise de Flavacourt
Garcie-Joséphine-Pétronille de Salcedo, Comtesse de Mérode
Tenure: 1725-46
Born: around 1675
Was actually from the Spanish Netherlands - todays Belgium
Jeanne-Angélique Rocque de Varengeville, Duchesse de Villars
Tenure: 1725-27
Born: around 1675
She retired in favour of her daughter-in-law, the Marquise de Villars
Jeanne-Antoinette Poisson, Marquise de Pompadour
Tenure: 1756-64
Appointed supernumerary dame du palais as a consequence of her position as the king's maitresse-en-titre
Unlike the previous mistresses of Louis XV, she had a good relationship with Marie Leszczynska because she never tried to humiliate the queen
Madame de Pompadour
Julie-Christine-Régine Gorge d'Antraigues, Duchesse de Béthune-Charost
Tenure: 1725-37
Born: 22 September 1688
Married to Paul-Francois de Béthune, Marquis d'Ancenis (later Duc de Béthune-Charost) in 1709
Hélène-Francoise-Angélique Phélypeaux de Pontchartrait, Duchesse de Nivernais
Tenure: 1745-48
Born: May 1715
Married to Louis-Jules-Barbon Mazarini-Mancini in 1730
Her husband was made Grandee of Spain in 1738
She had to vacate her position when her husband was sent to Rome as ambassador
Henriette-Julie de Durfort de Duras, Comtesse d'Egmont
Tenure: 1726-28
Born: 30 October 1696
Married to Procope-Charles-Nicolas-Léopold d'Egmont-Pignatelli in 1717
She was succeeded by the Marquise de Renel
Henriette Fitzjames, Marquise de Renel
Tenure: 1728-37
Born: 16 September 1705
Married to Jean-Baptiste-Louis de Clermont-d'Amboise in 1724
Her health declined dramatically causing her to ask the king to retire in favour of her daughter, Madame de Bouzols
Hortense-Félicité de Mailly de Nesle, Marquise de Flavacourt
Tenure: 1742-66
Born: 11 February 1715
She married Francois-Marie de Fouilleuse, Marquis de Flavacourt in 1739
Succeeded her sister, Madame de Mailly
She would eventually resign due to health issues which came as a surprise to Marie Leszczynska. The queen had been very appreciative of her service
Marquise de Flavacourt
Laure Fitzjames, Marquise de Bouzols
Tenure: 1737-63
Born: 1713
Married to Timoléon-Joachim-Louis de Montagu-Beaune in 1732
She requested to retire in favour of her daughter-in-law, the Marquise de Beaune
Laure-Auguste Fitzjames, Princesse de Chimay
Tenure: 1762-68
Born: 7 December 1744
Married to Philippe-Gabriel-Maurice-Joseph d'Alsace d'Hénin-Liétard, Prince de Chimay in 1762
Succeeded her mother (the Duchesse de Fitzjames)
Princesse de Chimay
Louise-Charlotte-Henriette-Philippine de Noailles, Marquise de Duras (later Duchesse de Durfort)
Tenure: 1767-1768
Born: 23 August 1745
Married to Emmanuel-Céleste-Augustin, Marquis de Duras (later elevated to Duc)
She was named dame du palais by appointment although there were already the required twelve
Louise-Félicité de Bréhan de Plélo, Duchesse d'Agénois (later Duchesse d'Aiguillon)
Tenure: 1748-68
Born: 30 November 1726
Married to Armand-Emmanuel du Plessis de Richelieu, Duc d'Agenois (later Duc d'Aiguillon) in 1740 who was a Secretary of State
She succeeded the Duchesse de Nivernais
Duchesse d'Agénois
Louise-Julie de Mailly de Nesle, Comtesse de Mailly
Tenure: 1729-1742
Born: 16 March 1710
She succeeded her mother and would eventually resign in favour of her sister, the Marquise de Flavaourt. She became Louis XV's mistress in 1733.
Comtesse de Mailly
Marie-Adélaide de Gramont, Duchesse de Gontaut (later Duchesse de Biron)
Tenure: 1725-40
Born: 1 March 1700
She was nominated in 1725 although she had not yet married the Duc de Gontaut. She took her position the following year when the marriage had taken place
Marie-Angélique de Neufville de Villeroy, Duchesse de Boufflers (later Duchesse de Luxembourg)
Tenure: 1734-50
Born: October 1707
Married to Joseph-Marie, Duc de Boufflers in 1721
She became a widow in 1747 and then married Charles-Francois de Montmorency, Duc de Luxembourg in 1750
Marie-Anne de Mailly de Nesle, Marquise de La Tournelle (later Duchesse de Châteauroux)
Tenure: 1742-44
Born: 5 October 1717
Married to Jean-Louis, Marquis de La Tournelle
She succeeded the Duchesse de Villars
She became Louis XV's maitresse-en-tire; he would declare her Superintendent of
Marie-Anne-Julie Le Tonnelier de Breteuil, Comtesse de Clermont-Tonnerre
Tenure: 1757-68
Born: October 1716
Married to Charles-Henri-Jules de Clermont in 1741
She took the place of the Duchesse d'Antin
Marie-Anne-Philippine-Thérèse de Montmorency-Logny, Duchesse de Boufflers
Tenure: 1750-68
Born: 1730
Married to Charles-Joseph-Marie, Duc de Boufflers in 1747
She succeeded her mother-in-law
Marie-Chrétienne-Christine de Garment, Comtesse de Rupelmonde
Tenure: 1741-50
Born: 15 May 1721
Succeeded her mother-in-law, the Marquise de Rupelmonde
She retired to become a nun under the name of Thaïs de Jesus
Marie-Éléonore-Eugénie de Lévis de Châteaumorand, Comtesse de Tavannes
Tenure: 1759-68
Born: 12 February 1739
Married to Charles-Francois-Casimir de Saulx in 1759
Succeeded the Duchesse de Mirepoix
She managed to keep her position at court even after she was separated from her husband in 1772; by this point she was in the service of Marie Antoinette
Comtesse de Tavannes
Marie-Élisabeth Chamillart, Marquise de Talleyrand
Tenure: 1740-68
Born: 8 February 1713
Succeeded her mother, the Princesse de Chalais
Marie-Elisabeth-Angélique-Gabrielle de Rohan-Soubise, Duchesse de Tallard
Tenure: 1725-29
Born: 17 January 1699
Married to Joseph d'Hostun de La Baume, Duc de Tallard in 1713
Succeeded her grandmother, Madame de Ventadour, as Governess to the Children of France in 1732
Marie-Émile Fitzjames, Marquise d'Escars
Tenure: 1757-68
Born: 9 October 1715
Married to Francois de Pérusse, Marquis d'Escars
She succeeded the Princesse de Montaubun
Marie-Francoise de Rochechouart-Mortemart, Princesse de Chalais
Tenure: 1725-40
Born: 1 January 1686
Married to Jean-Charles de Talleyrand-Périgord in 1722
She retired in favour of her daughter, the Marquise de Talleyrand
Possibly the Princesse de Chalais
Marie-Francoise de Talleyrand, Comtesse de Périgord
Tenure: 1744-68
Born: 10 August 1727
She was the half-sister of the Marquise de Talleyrand
She was appointed on order of Louis XV despite Marie Leszczynska's opposition
Her husband was made Grandee of Spain in 1757
Marie-Francoise-Casimire de Froulay de Tessé, Comtesse de Saulx
Tenure: 1746-53
Born: about August 1714
Married to Charles-Michel-Gaspard, Comte de Saulx-Tavannes in 1734
Marie Leszczynska was eager to have her appointed following the death of Madame de Mérode
Marie-Hélène-Charlotte Caillebot de La Salle, Vicomtesse de Beaune
Tenure: 1763-66
Born: 21 December 1739
Married to Joachim-Charles-Laure de Montage-Bouzols (son of the Marquise de Bouzols)
Marie-Josèphe de Boufflers, Duchesse d'Alincourt
Tenure: 1726-34
Born: 10 September 1704
Married to Francois-Camille de Neufville de Villeroy in 1720
She took the place of the disgraced Madame de Prie
Marie-Louise-Sophie de Faoucq de Garnetot, Comtesse de Gramont
Tenure: 1751-68
Born: 14 June 1732
Married to Antoine-Adrien-Charles de Gramont in 1748
Succeeded her sister-in-law, the Comtesse de Rupelmonde
Marie-Marguerite de Tourzel d'Alégre, Marquise de Rupelmonde
Tenure: 1725-41
Born: 1688
She retired in favour of her daughter-in-law, the Comtesse de Rupelmonde
Had also been a part of Marie Adélaide of Savoy's entourage
Marquise de Rupelmonde
Marie-Paule-Angélique d'Albert de Luynes, Duchesse de Picquigny (later Duchesse de Chaulnes)
Tenure: 1766-68
Born: 7 September 1744
Married to Marie-Joseph-Louis d'Albert d'Ailly in 1758
She was appointed just two years before the queen's death
Duchesse de Chaulnes
Marthe-Élisabeth de La Rochefoucauld de Roye, Duchesse d'Ancenis
Tenure: 1737-45
Born: 13 December 1720
Married to Francois-Joseph de Béthune, Marquis d'Ancenis
She was the daughter-in-law of the Duchesse de Béthune-Charost whom she succeeded as dame du palais
She would eventually retire; her alleged reasons for retiring was that the gambling and spectacles at court went against her piety
Victoire-Louise-Joseph Doyon de Matignon, Duchesse de Fitzjames
Tenure: 1740-62
Born: 9 August 1722
Succeeded her mother, the Marquise de Matignon
She retired in favour of her daughter, the Princesse de Chimay