Victoire Armande Josèphe de Rohan was born as the second daughter of Charles de Rohan, Prince de Soubise and Anne Thérèse of Savoy on 28 December 1743. From the moment of her birth Victoire was destined to marry into the higher ranks of the French court. Her father was a member of the mighty house of Rohan while her mother was born the daughter of a Prince. Furthermore, Victoire was a first cousin to Louis XV but through an illegitimate line.
As far as marriage was concerned Victoire was expected to do very well. Her half-sister had married the Prince de Condé thus becoming a Princess of the Blood. Victoire was seventeen years old when she married Henri Louis de Rohan, Duc de Montbazon. Surprisingly, she was two years older than her bridegroom. Together the couple would have five children.
Once established at court Victoire took up the task which befell all courtiers: trying to make a career. Her husband was made Grand Chamberlain but Victoire herself soon found an influential post. She was made Governess to the Children of France in 1775 when her aunt retired. As such she was entitled to her own suite of apartments at Versailles; an honour her husband also had through his post.
Victoire with Madame Royale
When the couple was not at court they resided in the lavish Hôtel de Rohan-Guéméné in Paris. However, with the birth of Madame Royale in 1778 Victoire was required to spent the vast majority of her time at court. Here she had a large responsibility to uphold. The Governess of the Children of France was not merely a nanny; she also had the task of running a household counting more than a hundred people.
Not everyone was entirely convinced that Victoire was the right person for the job. Ambassador Mercy described her as lacking in the essential qualities while Baroness d'Oberkirch said of her that she was: "stubborn but at the same time without character - the worst kind of stubborn. She was passionate but not very gentle."
Unfortunately for Victoire her tenure was to be rather brief. Already in 1782 she was basically sacked due to her husband's ever increasing debts. These debts would eventually lead to the sale of their beloved Hôtel in 1797 - by this time the debt amounted to a staggering 33 million livres! It would seem that their eventual bankruptcy did not come out of nowhere. Neither Victoire nor her husband appears to have had any sense of economy; when Joseph II (Marie Antoinette's brother) visited Paris he described their Hôtel as a gambling den. While at court Victoire was well-known to gamble enormous sums - which apparently she did not have.
Before things got that bad the marriage between Victoire and Henri were very typical of the arranged marriages of their day. Although the couple managed to produce five children they were nevertheless both unfaithful. Victoire took the Comte de Coigny as her lover.
There was an eccentric streak in her character as well. Victoire was immensely fond of dogs and kept a great deal of them with her. That was not unusual in itself but she allegedly believed that she could communicate with spirits using her dogs as mediums.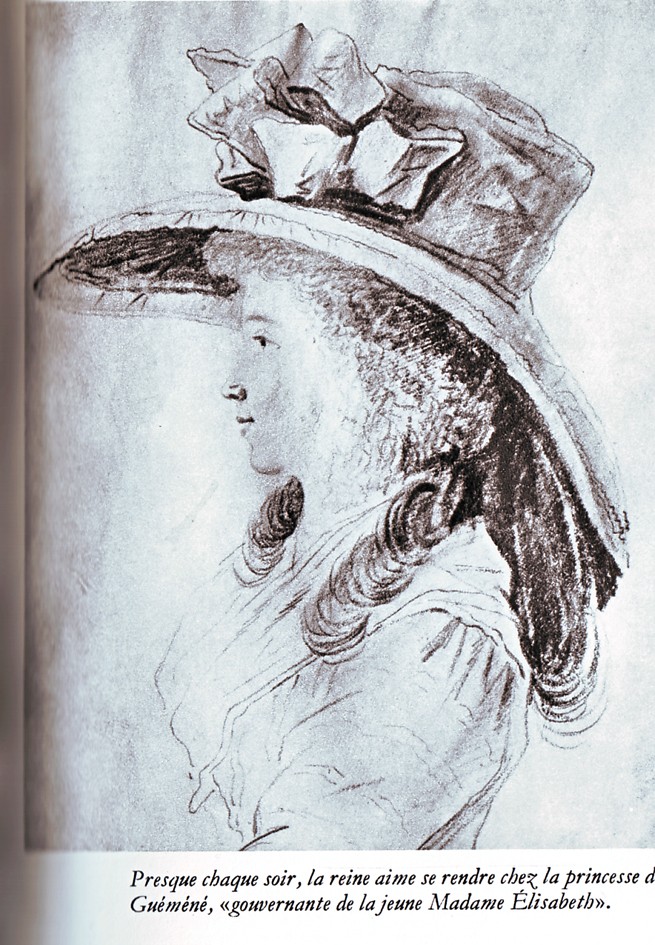 Sketch by Louis-Auguste Brun. It is disputed whether
it is the Princesse de Guéméné or Madame Élisabeth
who modelled for it
The late 1780's proved to be profitable in terms of climbing the social ladder but disastrous financially. The couple finally had to declare a massive bankruptcy in 1783. In 1787 Victoire's father died which meant that her husband was the rightful claimant to the title of Prince de Soubise. However, since Henri's own father died the year later he would be known by his inherited title of Prince de Guéméné.
When the revolution broke out the couple fled to Marie Antoinette's home of Austria. At a later point they resettled in the Sychrov Castle in the current Czech Republic. The house of Rohan would occupy the castle for the next 125 years. Victoire herself returned to Paris in the aftermath of the revolution. Here she died in 1807.